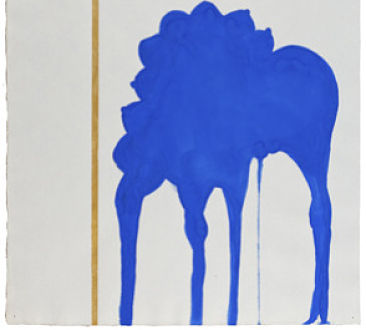 She was born in Kingston (Jamaica, natch), schooled in Chicago (The Art Institute) and New Haven (Yale), and now makes her home in beautiful Newark (New Jersey). She "finds contemporary connections, cultural stereotypes and historical references to how women have been subjugated as modern-day Hottentots [and finds] beauty distortion in strip club dancers, West Indian dancehall performers, Hollywood/pop culture icons, prostitutes and teenagers. She is Shoshanna Weinberger and her show "Sometimes All of Me is Not Enough" walls Friday at Carol Jazzar.

Wanna tell us a bit about "Sometimes All of Me is Not Enough"? Sure. The show includes large and small scale drawings that explore my fascination with our cultural obsession with beauty, whether attaining it or modifying it to achieve perfection. Coming from Kingston and moving to America I find that I'm in two different worlds, and I understand the idea of excess beauty to be not unique to any culture.

Is there any thematic relation to your previous "What Makes My Hottentot So Hot"? Yes, the solo show at Solos Project House in Newark dealt with the same idea of beauty in excess, however there I had a chance to create 3D works and an installation that paired the idea with its genesis. At Solos I focused on the birth of Venus myth, and at Jazzar I retell the story, only in this case substituting a stripper pole that's now been defiled with love lost and love found.

What does make your Hottentot so hot anyway? Hmmm... I'm not sure how to answer that. My Hottentot is better in person (JK). My drawings have different elements of media and image-making, and in some cases the subjects all have multiple bodies which are bound and hog-tied.

How'd you come to show solo at Carol Jazzar? I was part of a group show last year called "Spillage". Carol liked my drawings, and after a few studio visits to my Newark studio she offered the exhibit.

We take it, she's your kinda gal? Yes, Carol is a woman who is very generous and honest with what she likes and she really wants to get to know the artist. I like both her dedication to art and her program.

Care to cite any other gals you might consider kin, colleague or particularly inspired? I'd say: Ellen Gallagher, Chakaia Booker, Adrian Piper, Lorna Simpson and Louise Bourgeois have all inspired me one way or another.
Shoshanna Weinberger's "Sometimes All of Me is Not Enough" opens Friday April 27 and runs through June 10 at Carol Jazzar Gallery 158 NW 91st St Miami. Also on view is "here and then", curated by Alice Raymond.