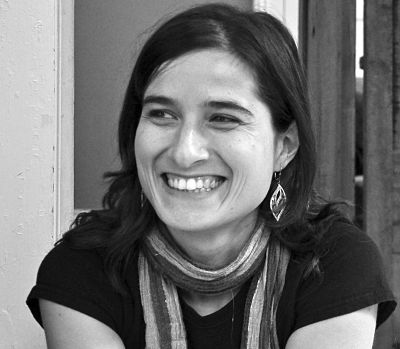 A penny a pound might not sound like such a big deal, but when you're talkin' untold tons, well, it adds up. For the farm workers who pick the crops that feed us, it can also mean they get to put food on their own table too. That's one of the many issues which thread through Silvia Giagnoni's Fields of Resistance (Haymarket Books $17), which chronicles a year in the lives of the people of Immokalee, where much of what we eat is grown. Niteside got with the author on the eve of her Books & Books appearance; here's what she had to share:

Would you please tell us a bit about Fields of Resistance? Fields chronicles a seven-month period (between November 2007 and May 2008) during which I visited the community of Immokalee. This period coincides with the harvest season in this part of the country, and the narrative revolves around seasons, holidays and other celebrations of special significance for the community.

Immokalee, Florida seems a long way from Prato, Italy. How'd you first become interested in the town and its workers? I got to know this young woman in Miami. She worked at the soup kitchen of the Guadalupe Church. She invited me to visit. I was fresh out of graduate school and definitely in a transitional period of my life... My first visit was on November 2nd, El Día de los Muertos, and its account became the first chapter of the book.

Is that also when you first connected with the Coalition of Immokalee Workers? Yes, and in my book, I chronicle crucial moments of the CIW's Burger King Campaign.

For those who may not know, what exactly is the CIW? It's a grassroots worker organization. In the last 18 years, by building alliances with students, religious communities, and prominent and lay individuals, the CIW has been able to win important struggles to improve the working and living conditions of the Immokalee tomato pickers. The CIW signed agreements that have resulted in wage raises and more humane conditions in the fields (through the implementation of a code of conduct) with most of the big fast food chains: Taco Bell, McDonalds, Burger King, Subway.

The CIW's main targets are now the retail food chains (so far only Whole Foods has signed an agreement with the CIW). And the Coalition has also been pivotal in uncovering nine modern-day slavery operations in the fields of Florida and beyond.

How many workers (and families) do they represent anyway? Around 4,000.
Aside from your book, what other sources are available for folks to learn more about the subject? The CIW has a very informative website. My book is a work of creative nonfiction and actually covers a lot of issues. Fields seeks to show the various cultural and social realities that coexist today in this part of Florida: the farmworking community, the Seminole reservation, and Ave Maria Town.

Where might they go in order to help Immokalee's workers and/or their cause? Support the Coalition of Immokalee Workers. That'd be a good way to thank the people who harvest the food we put on our tables.

Fields is published by Haymarket Books, which is named after the riot that eventually led to the 8-hour workday. How did you and Haymarket come together? I sent a book proposal and Haymarket picked it up. A couple of people close to the publisher were aware of my work already. I had spoken at the World Social Forum in Belém and other conferences nationally. I believe that helped the book too. I am honored to be published by Haymarket.
Silvia Gagnoni will be at the Gables Books & Books on Tuesday May 17, 8pm. For more information call 305-442-4408 or log on here.
Copyright FREEL - NBC Local Media