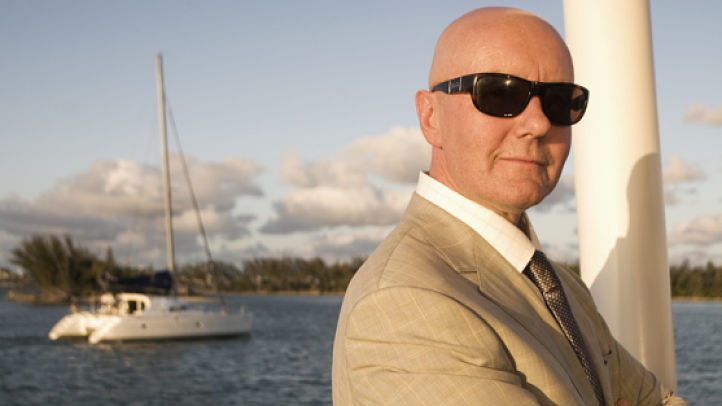 The last time Niteside swiped some time from Irvine Welsh, the wily wordslinger was in town hyping his Skagboys, that deliciously degenerate prequel to the phenomenovel Trainspotting. Now the part-time Miamian is back, and so are a few of his equally-renowned friends, among them uber producer Arthur Baker, who's taking over the backroom of Wynwood's very with-it Gramps so that the gang can greet 2013 with suitable Magic City keen.
What's this we hear about you locking down some hotspot for NYE? We're going to spending New Years Eve or Hogmanay as we Scots call it, at Gramps Bar in Miami. My buddy Arthur Baker decided to throw a back-in-town party, so we thought: 'let's have some if that.'
You really just piggybacking or are you actually bringin' in a buncha hard-nosed Scotsmen and taking over? Arthur and myself are working with Iggy Pop and Jonas Akerlund on a TV project in Miami so we were always going to be hooking up. But I'll be rounding up some (in)famous local faces for a few bars of auld Lang syne.
So if there are a few black eyes and broken noses it's okay, because it's all among friends? If there are a few loose teeth or black eyes at the end of the night it'll be between pals and all forgotten the next morning - in true Hogmanay style. And we won't be stepping out into driving rain or snow in freezing temperatures.
Speaking of blood and bruises, have you made a final count of those wounded during your Skagboys road show? I think the Skagboys tour took more out of me than it did anybody else, and that was just America and Britain. Next year it's Australia, Slovenia, Italy, Germany, Holland, Trinidad and Brazil. Way too crazy.
Should Welshies be braced for some kinda post countdown reprise? I'll be singing "Help Me Make It Through The Night" to anybody who will listen.
Hypothetical hijinks aside, what might Irvine Welsh see most likely to happen in the coming New Year? It'll be another killer year. We have The Magnificent Eleven film in Spring out in the UK. The big one is the worldwide release of Filth in Autumn with James McAvoy. It features a killer score from my old pal Clint Mansell, and I'm so excited about that movie. Apart from that I'm working on the two TV projects, a movie which will hopefully shoot this summer in Chicago, and a novel set here in Miami. No sleep till '14.
Arthur Baker's Back in Miami Bash goes down NYE in the backroom at Gramps. Those who don't yet know where it is, best find out.