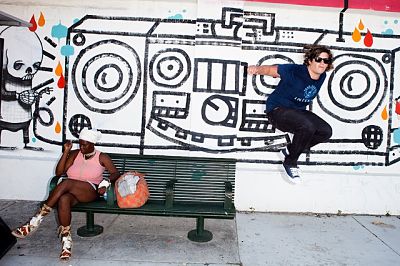 Contrary to popular belief: DJs are not a dime a dozen. Not real DJs anyway. By which we mean those who know sound as much as vision and are not afraid to mix both when they booth up. Case in point: Eyal Agai, better known as Pirate Stereo, whose put his winning spin everywhere from Bardot to Coachella. Saturday night The Overthrow gang member will be doin' the dizzy at Cafeina, which is being transformed as The Best Little Whorehouse in Wynwood. Need we say more?

Who (or what) is Pirate Stereo? Pirate Stereo is the alter. PS started as a collective between my friend Isaac and I when we attended Berklee in Boston. We started out at an exciting time for electronic music, put out some great remixes and tracks and played very cool shows. I do PS solo now and am trying to steer it in the direction of... future.

Didn't you cats connected with Passion Pit on a couple few occasions? We went to school with Ayad, Jeff, and Nate (of Passion Pit) and became good friends. It's been very exciting to see them go from a local band to this acclaimed international act. They deserve it; they've worked very hard. A year ago I asked the boys to DJ the PS album release party after their performance at Ultra and it turned out to be an amazing night. They were back in town a few months later to play the Fillmore and I got to DJ their afterparty with my amigo Troy Kurtz. I think they're about to get even bigger when the next album comes out.

Word is you also did some rather unusual staging at Coachella, that so? We got the opportunity to play at Coachella 2010 after winning a mixtape competition through one of their sponsors. The organization was called Global Inheritance and was promoting pro-active youth culture towards our planet. We played an eco-stage which used 100% human powered gear. Our roommates from college founded a 100% organic T-shirt company called IDEOLOGIE and they had the whole crowd wearing organic PS t-shirts, super special. It's really an amazing festival, it was incredible to be a part of it.

What other real big deals has PS been up to over the past year? The past year really has been all about DJing. I've been a resident at Bardot for almost a year. Its' a truly unique spot in Miami. They've done an amazing job at bringing in some incredible acts to our town. The next few months there are going to blow people away. I've also been a resident at the Florida Room for a few months and I consider it the finest spot on South Beach. I play Saturdays and it's one of my favorite parties not to mention the fact it's under the Delano and they serve the best mezcal in town! Ask for the ʻPechuga.' As for production, I just finished a new remix today for an amazing musician from Munich which will be released in the next weeks. First in a while, pretty excited.

But you'll also be at Cafeina this Saturday night right? Yes, and I'm excited to share the night with Troy [Kurtz]. We always play well off each other, and the venue, as well as the people attending, allows for a lot of creativity. It's a very special B-Day celebration for Nick D'Annunzio and Brian Antoni, so I think it's safe to say it'll be a pretty fun night at Cafeina.

Will you be putting the dizzy to anything new? Some of the best music I've ever heard has come out in the last few months. I try to play as much new stuff as I can get away with because it's always fun to share music you really enjoy and have people react to it. I'll definitely be stretching out some new remixes I've been working on and a new track which features a pretty awesome artist that would rather remain anonymous hint: we've performed together in the past.

What else has PS got goin' on this month? On August 25th I'll be performing on the Overthrow Stage at the IDentity Festival at Bayfront Park along with Caligula, Troy Kurtz, Juan Basshead and a heap of my MIA DJ contemporaries. Also, Overthrow is holding a competition for unknown
DJs to play the stage whoever submits the best 15 minute mix wins, excited to see who takes it!