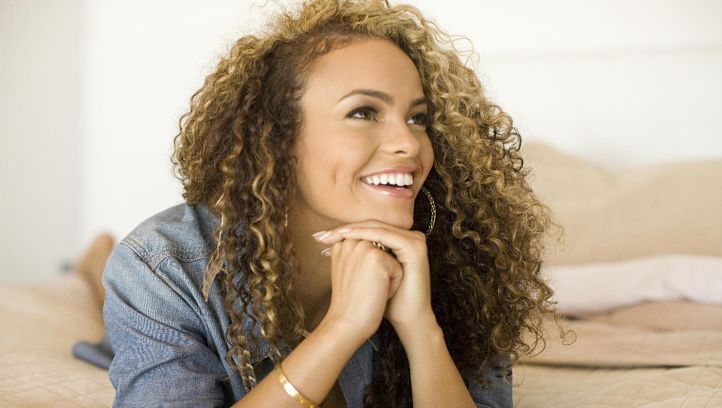 Some gals have all the luck. They're born with talent and looks, graced with presence, and somehow come to be connected to just the right people and just the right time. Better still, the right people see how she's got the right stuff, and back her plays accordingly. Such is the case with Starshell, who turned a co-write with Kanye on "Love Lockdown" into an ever-bursting career of her own. This Thursday and Friday, at the Triple A, Starshell shines respectively before Mary J (and D'Angelo) and J. Lo (and Enrique). Really.
Does your name spring from the explosive once used to illuminate battlefields? My name doesn't come from that meaning but when I found out that it meant that, I was excited. It definitely represents it in so many ways; A beacon of light.
Would you say explosive and illuminating are two of your strongest attributes? Yes for sure!
Care to cite two more things that helps to make Starshell shine? Unique and upbeat. I pride myself in always being myself- Doing the music I love that is true to me. I shine because I do what's true to me.
Speaking of double-plus good, you've got back-to-backs in Miami with Mary J and J. Lo; are you pinching yourself yet? This is for sure a "pinch me-I'm dreaming moment!" I am overwhelmed with excitement. But I'm also being sure to live in this moment. I have worked so hard and so long to be here. This is no accident. I am exactly where I am supposed to be. Every night on that stage, I know it in my heart and soul.
How'd the Mary J slot come about? I am signed to Mary J's Matriarch records. She was going on tour and I am finally ready to launch my music. It made sense. This is the best platform to get out there and touch people. And, to introduce her new artist on her label, to her fans.
And J. Lo? I have a great team of people ;) This is my core demographic. It was a perfect fit, being that I am Latina and sing pop music in English and Spanish. When this opportunity presented itself, I gained approval from the promoter Randy Phillips and both JLo and Enrique's management... Then it was a go!!!! And here I am.
Guess we should mention D'Angelo and Enrique are also on the respective bills, no? Yes. They are great too!
Will any of the above be appearing on your debut? Not yet. But maybe... It isn't finished.
Any other top shelf collaborators you wanna fill us in on? Ne-Yo. Kanye West. Big Sean. Busta Rhymes...
When can the world expect to get the full LP anyway? Soon. Very soon. Late 2012 or early 2013.
And in the meantime...? Be on the lookout for my next single Superluva featuring Kanye West and Big Sean (available in English and Spanish). And watch for me to be coming to a city near u! I love being on the road performing so I'm planning on doing a lot more of it!!!
Starshell opens for Mary J Blige on Thursday and J. Lo on Friday at American Airlines Arena. To find out more about her log on here.