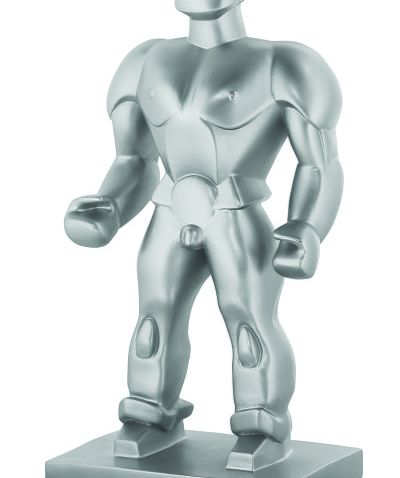 Anyone who's ever entered the hallowed halls of The Wolfsonian has seen him standing sentry. At six-foot-six, 475 pounds, the monumentally modern man would be hard to miss. But this behemoth is about much more than size. He's about style, and grace, and a period in American history where even the sky wasn't the limit. He's The Wrestler, a 1929 marvel created by one Dudley Vaill Talcott which stood sentinel at the '32 Olympics and undoubtedly inspired the U.S. to take home wrestling gold. Now the good folks at Levenger have recast the mammoth to fit on your bookshelf. And tomorrow night The Wolf will be throwing a party in its honor. Niteside got the company's Steve Leveen to fill us in.

How'd you first come to call on The Wrestler? It was back in the 1990s when I first visited The Wolfsonian. I turned a corner and was face-to-face with The Wrestler. He had an immediate and visceral impact on me. I was shocked in the way powerful art can shock. I was in awe at encountering something dreamlike yet real, historic yet futuristic -- all at once. It was the first time I was so hit over the head by a piece of art, suddenly, dramatically.

What's the big idea behind making it in miniature? The world doesn't need more stuff, but it needs more stuff that matters, stories with heart and meaning, and the passing on of the achievements of the past in order to fuel the creative furnaces of the future.

I'm proud that we got his story right on the base. Since we are endeavoring to create tomorrow's antiques, we feel a keen obligation to bake into those items their stories. A century from now, or longer, someone can heft the model, turn him over and read again the powerful story of the original and why it was important historically and artistically.

If you had to choose one book to place between two Wrestlers, what would it be? The Shock of the New.

The Wrestler bookend launch party takes place Friday, June 24 6pm at The Wolfsonian 1001 Washington Avenue South Beach. The event is free and open to the public. For more information call (305) 531-1001 or log on here.