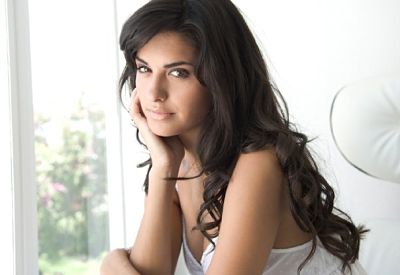 The Gansevoort South has swung with swells since the very first day the hotel opened its doors. First, of course, there was Plunge, the roof-top poolside lounge from which one can almost see Havana. Then came Louis, another in a long line of Opium Group success stories. Now there's the Miami Beach outpost of the infamous STK, a swanky funhouse for foodies of a certain swing. The action-packed eatery is alit with lounges, and, this being South Beach, those lounges are staffed by servers who are veritable knockouts. Of those knockouts, there's perhaps none more worthy of the title than cocktail gal Sindy Perez.

What's it like working at one of the hottest spots in town? It's just so much fun! I know there are many people out there that can't say they love their job but I truly do. I was able to go have dinner at the Original STK while working in New York last year and I thought the concept was just genius. I was very happy once I heard there was one opening in Miami and I jumped at the opportunity to work with them. The venue here in Miami is absolutely beautiful ... tie in the great food, amazing cocktails and the exquisite people and, well, you just can't go wrong.

Speaking of cocktails, STK offers quite an assortment. What are a few of the most popular going today? Ah yes, the cocktails! We have a great list of specialty cocktails that really appeal to just about anyone. They are all made with fresh ingredients -- never puree.

One of my personal favorites is the Pink Elephant Martini. It's the perfect combination of Grey Goose pear vodka, fresh muddled strawberries and mint topped with Champagne. It's so refreshing with just the right amount of sweetness and everyone knows you can't go wrong with the bubbly! If you like tequila, you'll like our Sterling Silver made with Patron Silver or our La Cienega Martini, made with fresh cucumbers, mint and Frida Kahlo tequila. If you like bourbon, Try our Not Your Daddy's Manhattan made with Woodford. Another popular drink for the ladies would be the Strawberry Rhubarb Cobbler, which includes rhubarb-infused Belvedere vodka, muddled strawberries with a Graham Cracker rim.

Who are some of the bold-face names that have swung through since its opening? I personally like to treat all my guest as VIPs and make sure they have an amazing experience. But STKs around the country have been known for their famous faces and it's very true when they say that you never know who you will see while out to dinner or at the bar. A few names you may recognize are Adam Sandler, Rob Schnieder, Chris Rock, Jim Carrey and Jenny McCarthy and A-Rod. We've had Randy Jackson swapping tables with Kim Kardashian and Serena Williams. The Wayans Brothers, Fergie and Josh ... just to name a few.

Keeping the action flowing at STK is only your night job -- by day you're also a model. What are some of the campaigns we may have seen you in? I am currently the face of a few local designers: Iemanja Swimwear is an amazing up-and-coming Brazilian swimsuit line and Eva Danielle's collection is something out of this world.

I've been doing this for close to 10 years now, and I have been featured in Ocean Drive and on HD Nets very popular show "Get Out." I have also walked the runway during Mercedes Benz Fashion week, Funkshion Fashion week and for designers such as Betsey Johnson and True Religion. I've had the pleasure of working with some amazing photographers and very talented designers.

Is there anything coming up we should be on the lookout for? Yes! Later this summer check me out in a Dell campaign made for the World Cup! I also just shot a few catalogs for 2010 collections. .Look out for the A7 catalog as well as my cosmetic campaign for Mehron NY!

When you're not working, where do you most dig hanging out? When I am not working? That's funny. I am a bit of a self-confessed workaholic, but occasionally I do need the ever so famous girls night. I am loving CoCo Deville right now and it's very convenient that it's located directly next to STK. You can tell I love the place because I even go there when I am not working. I just recently celebrated my birthday and went over to STK for some pre-party cocktails. Once we finished there we went right next door to Coco where we danced the night away into the wee hours of the morning.

In your opinion, what makes for a great night out anyway? Great company and an amazing outfit! One bad seed can ruin even the most fun times, so surround yourself with good people. Dressing up always helps. Nothing feels better than feeling good and confident on a night out. And when you are hanging out with great people you can have a great time anywhere!

What else is on the horizon for Sindy Perez? Besides taking over the world? Honestly, I see myself jumping behind the lens and following my dreams of becoming a make-up artist in the film industry. I am looking into a temporary move to LA next summer where I would attend school to become a special effects make-up artist. Being in front of the lens so much has given me enough experience to evolve into something much bigger and better. I also have plans of eventually opening up my own boutique and styling company and maybe one day even having my own line of cosmetics. Didn't I say I was a workaholic?