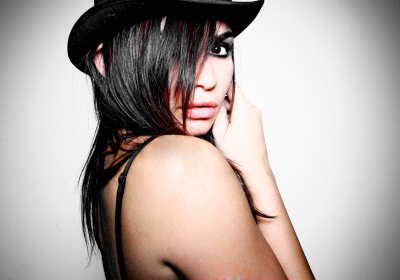 Anyone who had the pleasure of being "murdered" during one of Bella Rose's infamous Black Sundays knows that their lives could've been spared with one nod from Charis Kirchheimer. Not that they'd necessarily want their lives to be spared, mind you -- hell, getting "killed" during the weekly offbeat party that featured mock murders was a rare and privileged honor. But Kirchheimer was one of the three dark Overthrow ops behind the staged slayings, and she played a large part in determining each week's victim. This weekend Kirchheimer hangs up some of her Dirty Laundry at Cafeina. And while there may not be a murder, the show most definitely will kill.

You kinda got your start popping shots back when Overthrow's Black Sunday was running at Bella Rose. How did that come about? It all started with Alexis Mincolla's idea to create something different in Miami's nightlife. So every Black Sunday, me and super photographer Stian Roenning would shoot a stop-motion short where some partygoer would die in the name of a good time.

Of all the shots you popped, what was the wildest? I would say the wildest shot I've taken was during my most recent shoot where I got my hands on some lamb heads.

Anybody ever not let you snap their mug? Everyone loves their picture taken in this town. Usually celebrities don't like their picture taken but I generally don't have a problem.

What makes a mug worth shooting anyway? Capturing that precise moment in time.

Speaking of snaps, you've got some showing at Cafeina this weekend. Can you give us the details? Cafeina invited me to show my work as part of Wynwood/Design District's monthly Art Walk. I've added some multimedia dimensions to my Dirty Laundry series for this particular show. The soft opening is this Friday, and the official debut is Saturday night during Art Walk.

Aside from camerawork, what else have you got goin' on? Though photography is my main focus, I dabble in cooking in my free time.

What's the secret ingredient for a wild night out? Good company.

What's the one thing that can ruin a night out on the town? Bad company.

These nights when you hit the town, what spots do you most dig hitting? On the beach, I like going to Louis for the Misfit Party, Rokbar is an old favorite and The Room for a late night beer. Downtown, Vagabond, Bar, Electric Pickle and Grand Central top my list.

What's coming up for Charis Kirchheimer? The world.