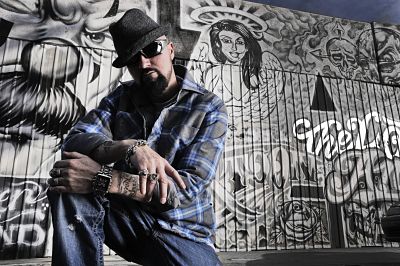 Seems speed is in Jim Jonsin's blood. Not only is the super producer constantly racing up the charts with the likes of Nelly, T.I. and Usher, but he's also a fixture on some of the country's fastest tracks. With a little help from pals Pitbull and DJ Affect, Miami's most rev-worthy hit-maker launches his Rebel Rock Racing up at Palm Beach International Speedway this Saturday.
Will Rebel Rock Racing be an actual race or more of an exhibition in speed? As of now our events are slated more as an exhibition of speed building up to a race. We are grooming these drivers by means of our high performance drivers' education sessions in order to provide them with the basic fundamentals and preparation for the actual race that will take place at a later time. This will ensure that all drivers are safe during their practice stints while having no compromise on an incredible tarmac experience.

Any chance we'll see Jim Jonsin suited up and competing one of these days? It's funny that you mention that. This past week I received my Competition License from the SCCA (Sports Car Club of America). This license is currently recognized nationwide, so keep your eyes peeled for Jim Jonsin and Rebel Rock Racing on a grid near you.

Who else besides you and Champion Motorsport is behind the event? In conjunction with my partnership and calibration with Champion, I had some amazing names contribute and support my energy, passion and ideas. Some of these companies include Oakley, Beats by Dre, Avion Tequlia, Sobieski Vokda, Magellan Jets, and SHO Nightclub. Currently, we are receiving support requests daily and look forward to teaming up with only the premier marquees in their industry.

Is the plan to make this an annual affair? We're planning these events on a monthly basis with a finale style/marquee event schedule once each quarter. The quarterly events will host headline acts in the entertainment industry and this will drive thousands of guest trackside to experience what I love to do. Currently, we are planning events in California and Texas, and our goal is to fuse our new motorsports experience from coast to coast.

How'd this all come about anyway? As an automotive enthusiast I became very eager to take my personal vehicle out on the race track. After experiencing this for the first time as a novice, I was instantly hooked. I began to do some research and joined some local clubs for track time. After attending many reputable and accredited track experiences I saw that there was a void within the motorsports industry. There was simply no entertainment. From a spectators stand point, this could become a little monotonous. So I reached out to my partners at Champion Motorsport and ran my ideas past them. We instantly threw some ideas on paper and positive energy was flowing around the conference table. My idea of fusing the entertainment industry with motorsports was an instant success. We now invite families, friends and spectators alike trackside to experience the adrenalin rush that all drivers feel while giving them something to do while off the grid.

What else is coming up for Jim Jonsin? In 2011, we're working on the B.o.B album, as well as Rebel Rock's newer signings, and we're currently working with Wiz Khalifa and Yelawolf. I'm also working with Jimmy Iovine as a producer mentor on "American Idol," so it looks like a promising year in new music and new artists.

Rebel Rock Racing kicks off 7 p.m. on Dec. 18, at Palm Beach International Raceway .