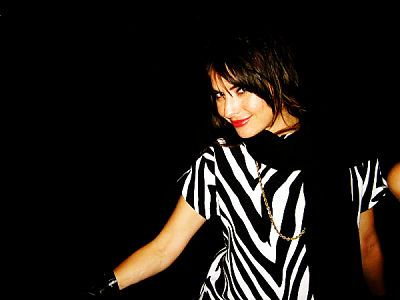 Nightlife -- and all its attendant functionaries -- can be a tricky thing to navigate, especially if someone's got their mind on other things, such as the bottom line. That's why nightclubs and magazines and galleries and fashion houses and a whole host of other wonderfully shady concerns turn to Michelle Leshem and SuperMarket Creative. Leshem was on the front lines when Crobar was king, and she's been a sorta queenpin with all kinds of fun stuff since. We caught up with the fast-talking excitement generator to see what's what and where. Here's what she had to say:
Okay, for those who don't know, what's Supermarket Creative? Five years ago, Supermarket (for short) was built as a one stop "Ma and Pa" shop for marketing, promotions, brand development, experiential events and production. You can hire us to strategize and develop your brand, develop branded environments, social networking, sponsorship activation, grand openings, product launches and so on. There's nothing more we love to do then develop brands, create buzz and launch in an artistic and innovative manner.

You and your partner Sean Drake also run something called Creative Mafia. Can you tell us a little bit about that? Creative Mafia is the advertising and design sector of what we do. Sean is the art director; he handles everything from graphic, publication design and production, web development, creative strategy and photography whereas I focus on research and development, conceptualization, client relations, package design. Together we develop branded environments. Our clients range from hotels, nightclubs, non profits, medical, restaurant, lifestyle and retail.

Your client list runs the gamut from Awarehouse Gallery to the International Polo Club. What's the secret to repping both the avant-garde and high society? Knowing your target, having a great idea and strategy, smart design and execution that taps into human insight. Lastly, it's very important to always support and cross promote with like-minded creatives and allies. Keeps the energy flowing.

You also handle some fast fashion, including something called J'Adore Design, which apparently goes well beyond clothes. Wanna give us the scoop? This is a experiential event that is more about my passion for interior design together with upcoming and established fashion brands. J'adore Design was created in 2004 and based on the act of window shopping. Who doesn't window shop? Since I love events that incorporate theatrical productions that interact with the audience, I thought J'adore Design is a perfect way to showcase the artistic value behind visual merchandising in a more controlled setting such as an exhibition. After a two-year hiatus, I have partnered up with my dear friend Jose Ortiz, and we are currently working on a Swim and Art Basel installment.

You got your kick-start at Crobar back when South Beach still had an edge to it. What was one of the most important things you learned working at that fabled hotspot? That era opened my eyes to a whole new world. I learned how to market and sell a brand so that customers and guests valued the product, developing marketing and operational programs and ultimately creating special events to target an affluent clientele. I learned everything about my clients in order to accommodate them as best I can, which was very important for us to succeed especially in a competitive market. Till today that attention to detail helps me develop and launch products successfully.

After Crobar you ditched the Beach and hit the Mainland, handling hype at Pawn Shop Lounge. Do you think it will ever again be cool to go back across the Causeway to South Beach? South Beach will always be known as an amazing place to live, visit and party. It's beautiful and it's definitely one of the coolest spots in the nation. There are still a few great spots from lounges to hotels that -- whether you live in Wynwood or South Beach -- are fun to frequent. Not to mention South Beach is still a Mecca for many special events that make this city amazing -- from Miami Swim Week to Winter Music Conference, Food and Wine and so on. It definitely can't be compared to the Mainland, which I think is a good thing. Why recycle environments and areas? Thankfully, there is a new crop of spots and areas to go to now whether you are a Beach person or not.

Miami's Wynwood and Design District is growing and I couldn't be happier. Now, in regards to SoBe bringing a bit more of its mojo back, well, I think if there was more of a focus on better talent bookings, instead of TV reality stars and big room DJs, like more up and coming artists and production filled events.

Word is you've also started spinning. Can you fill us in on the when, where, what and why? Influenced by Sean -- aside from him being my permanent love interest he is also my favorite DJ -- it was only natural for him to want to start to teach me. I also started DJing with one of my BFFs, Sasha Lauzon. Together we are called SnM. Our musical direction leans more towards Nu Disco to New Wave. We felt there was a need for more girl DJs who love the sounds of Sally Shapiro, Little Boots, In Flagranti and Fan Death just to name a few. We just DJed at Bardot and we are also producing a one-off, Canadian inspired music event at Cafeina called "The Eh Team." Our neighbor up north, my native land, is home to a lot of amazing artists and we wanted to showcase that.

In a phrase, what do you think makes for a dynamite night out? The company, the music and the ambiance -- whether it's back to basics or full-on glitz.

Speaking of nights out, can you name a few of your favorite hangouts? Magnum, The Vagabond, Soyka, Michael's Genuine, Private Residence and Bardot.

What's next for Michelle Leshem? Opening up my own digs that compliments and helps develop Miami's burgeoning art and entertainment district.