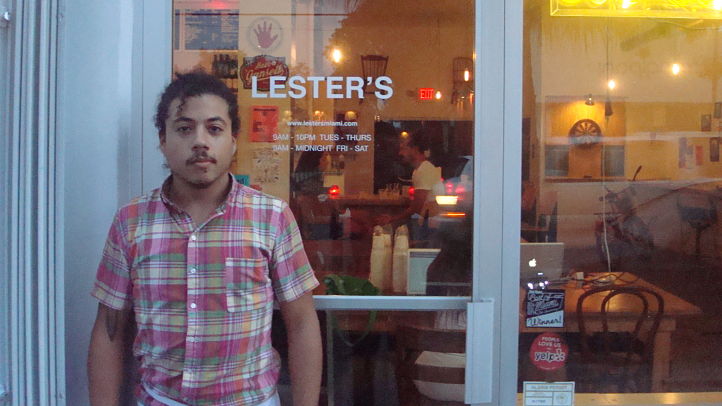 Everybody's heard of Second Saturday. Hell, some might say too many everybodies have heard of it. But not everybody was there at its creation, nor do they know that the fabled day began simply as a bright idea. With Submission, man about Wynwood The Jose Garza wants to bring back that kinda genuine action, only this time every Third Friday. And he's bringin' in a slew of swells to Lester's to do it too.
Just what is Submission anyway? It's basically me putting my physical manifestation of owner Daniel Milewski's vision behind Lester's, which is to have a space where ideas and products can be freely and respectively exchanged.
Who all is in on the action? It's my brainchild, and I'm the primary – from nuts and bolts to dollars and cents. I've also got John Caignet of Jolt Radio who'll be streaming live as well as broadcasting preview interviews, Andres Roquete from the Get Up Kids Collective will be handling all the graphics, and the blog Vicios Culturales are helping me with the documentation and promotion.
Isn't there also an onslaught of DJs? Yep, we'll have Benton Galgay, as well as the DJs from Spank Miami, plus surprise sets from various residents of Treehouse and The Electric Pickle.
How 'bout live music? You bet. Dear Darling will be headlining, Def Poets' Sean Wouters will be performing an acoustic set. and a hot new three-piece putta South Miami called Copans will all be appearing live.
Anything else? Oh yeah, Aristotle Georgeson, the wise-cracking comedian from BroBible and Lester's monthly Mustache Ride Collective will be cracking wise.
Will the guests vary each month? Yes, with the exception of Copans, who'll be performing a set specific to each month's theme.
What's the inaugural theme? Exposure. People doing what they do in a different context.
Submission kicks off Friday, Oct. 19 from 9 p.m.-2 a.m. at Lester's. For more information log on here.