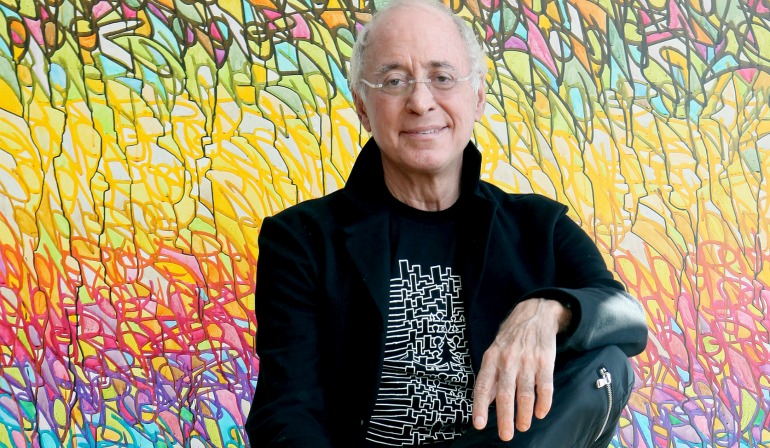 He made his good name in New York's Soho, before the neighborhood even had a name. He parlayed that success in South Beach, and helped turn "God's waiting room" into one of the most vibrant destinations on earth. Lately he's been in on (if not behind) most of the fast action that happens in Wynwood, and did much to make it the core of Miami's art scene. But The Wynwood Walls, a namesake Warehouse, Joey's and its adjacent Wynwood Kitchen & Bar are only part of Tony Goldman's fabled story, which continues apace with "the Flying Murals" now showing at Art Wynwood.

What exactly are the "Flying Murals of Wynwood"? The Flying Murals of Wynwood are contributions to creating a sense of place at Art Wynwood, continuing the brand inside and outside of Wynwood Walls.

Is there some kinda cool creation story you care to share? Ron English and his camouflage wood and deer experience was also a creation reminiscent of the Wynwood Walls – but on steroids. It evolved into a very cool, large-scale installation.

How will they be incorporated into Art Wynwood? They (English's work) are placed at the Fair's transitions, so you walk through the forest [as it were], which is designed to bring an environmental counterpart to this fabulous exhibition.

What made you decide to get involved with AW anyway? It's important to position Miami as a year-round arts destination, not just in the weeks surrounding Art Basel. The fact the people are so excited about Art Wynwood proves to me that Miamians are hungry for cultural experience – they want to see it and own it. I see it as a giant step forward for the city. The key ingredient in the success of Art Wynwood is Nick Korniloff. Any great enterprise requires the risk-taking of an experienced entrepreneur; Nick is that entrepreneur – a class act with a high level of taste and patience. I will always support that kind of effort and was thrilled when I learned about Nick's plans for Art Wynwood.

Are there any other fairs – Wynwood or otherwise – on your horizon? I certainly hope so, but let us for the moment savor and celebrate the success of this. Bravo Nick Korniloff, the Wynwood arts community, and the good city of Miami!!!!

Art Wynwood takes place at 3101 NE 1st Avenue Miami and runs through Presidents' Day Weekend. For more information log on here.