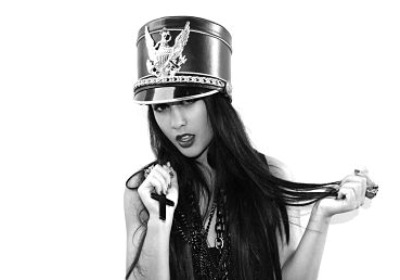 Robyn might be Friday night's Fillmore headliner, but it's a good bet a large part of the now crowd is also gonna be there to catch British songstress Natalia Kills. And if the ultra vivid images on her Love Kills xx video series or the upfront punch of the just-out Mirrors EP are any indication, that now crowd is gonna be expanded exponentially before the wild night's out.

Okay, where'd you get the name Natalia Kills? Well Natalia is my real name, and when I first got signed they encouraged me to find a name that's direct and descriptive of who I am. I've always been a perfectionist, and what do you do when you want to have and be the best you can be? You kill it! So... Natalia Kills.

Wanna tell us a bit about the Love, Kills xx series? Well firstly, I wanted people to be able to get to know me! I wanted to invite my audience into my mind. So I wrote down all the dreams and nightmares I'd been having. Every thought of revenge on an ex-boyfriend or day dreams of hanging out with my girlfriends and I decided to film them into scenes, then inject myself into the frame reacting to the scenarios. So it's me being me in all these surreal situations, allowing people to see my mind and also myself reacting to it! Guillaume Doubet is one of the most talent directors I've met. I fell in love with him and his work when we met a few years ago in Paris. He taught me how to direct and we've been working together ever since.

In Spring you're going to be dropping Perfectionist. What's the first thing we need to know about the record? It's confrontational, say-what-you-really-mean pop music. I had so much fun writing it! I'd been writing songs for other people for a while before I got signed, so it was great to finally be selfish and keep my ideas for me. I'm really inspired by film soundtrack music so it's pretty dramatic!

It's out on Cherrytree, after an assist from will.I.am. How'd that come about? I'd put a demo out on MySpace in 2007 and Perez Hilton liked one of the songs and wrote about it. I got 2 million plays in a month! So I went to Hollywood to meet some labels and I ended up meeting Will. We connected immediately and he signed me to his label on Interscope, also home to Cherrytree. When the new Black Eyed Peas album came out Will went on tour so luckily I got to work with Cherrytree and become a Cherrytree artist.

And the Robyn tour? Cherrytree has incredible artists! They've cultivated La Roux, Far East Movement, Lady Gaga, Robyn, Feist, Sting. So many great songwriters and artists. We all support each other and work together as a family so I'm very lucky to open for Robyn on tour -- I've been a fan for years!

You've cited Queen and Kate Bush (among others) as inspirations -- who's on your current playlist though? I have a lot of soundtrack music. I also have Prince, Depeche Mode, Eurythmics, and more recently, Kanye West, Robyn, La Roux, Sleigh Bells, The Knife, Fever Ray, Yeah Yeah Yeahs and Erik Hassle.

What can NK fans expect at The Fillmore Friday night? Debauchery. And lots of it.