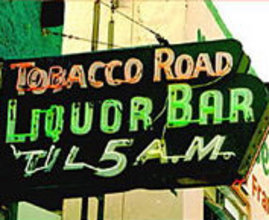 This Saturday night the venerable Tobacco Road hosts the first annual XIX Amendment Hoedown. But the anniversary of women getting the right to vote isn't the only reason the 99-year-old establishment is throwing a blowout party; they're also doing it to Save the Ta-Tas. NIteside got with The Road's Oski Gonzalez and had him fill us in.

For the two people who don't yet know, could you please tell us a bit about Tobacco Road? Tobacco Road is Miami's oldest bar, restaurant and cabaret. She will celebrate 99 years in November 2011. It's the mecca for live music in Miami with some serious burgers and good stiff drinks. And it's open till 5 a.m. every single night. Everyone loves The Road, from blue to white collar folk, from the rich to the Average Joe. It seems like everyone has a cool story about this bar. We just shot a TV episode of The Originals starring Emeril Lagasse for The Cooking Channel that will debut on Thursday, June 23. The show is about classic spots that have been doing it right for years. In Miami Tobacco Road is the Queen of that.

Can you name a few legends who've taken to The Road's stage over the last 99 years? The Road has seen the likes of Buddy Guy, Coco Taylor, as well as Rock 'n' Roll Hall of Famers Dr. John and George Clinton.

This Saturday night, The Road's getting made over for a good cause. Wanna tell us a bit about it? On Memorial Day Tobacco Road was painted pink for this Saturday's XIX Amendment Hoedown. A portion of the proceeds will go to the Save The Tat-Tas Foundation, which is determined to wipe-out breast cancer. The XIX Amendment gave the American woman the right to vote and Saturday is the anniversary. It's just another reason to have a party Tobacco Road style. We will have a mechanical bull, live music and 15 of Miami's hottest food trucks.

How'd this all come to be? I get a call from Road owner Pat [Gleber] and he says we just had a meeting and we are gonna paint the place pink. I was like what! Then he tells me the whole story of the XIX Amendment and how cool it would be to do this event. Then the Road's A Team went into action and this Saturday it's going down.

Will you be spinning the festivities? Yes, I will be spinning from 6 p.m.-12 a.m. in the parking lot and DJ Care Bear with take it from 11 p.m.-4 a.m. inside the main bar. I will be playing lots of country and classic jams to keep things on that hoedown vibe.

The XIX Amendment Hoedown takes place Saturday June 4 6pm-2am at Tobacco Road 626 S. Miami Avenue Miami For more information call (305) 374-1198 or log on here.