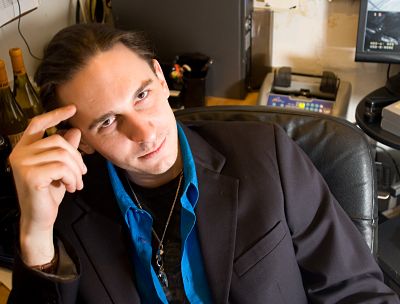 For the past two years, The Vagabond has been one of the most consistently hip and happening hotspots in our town's wild nightlife. But what you might not know is that the nitty-gritty, night-to-night, ins-and-outs that make the club click like clockwork are handled by Travis Carey, who's been managing The Vagabond since its build-out. Niteside got with Carey to see if we might glean some of the secrets behind the club's always rad action. Here's what he had to spill:

You manage one of our town's consistently hippest joints -- what's that like? It's been really rewarding to see people gravitate and embrace what we created with The Vagabond. A labor of love from the start, we wanted to create a place that brought some honest soul back to the nightlife here in Miami ... back to basics, you know. It's always been about the people and the music first. Since I've been part of this from the beginning, hands-on through the entire build-out and overseeing operations since opening two years ago this month, I'm definitely emotionally connected to the place -- maybe a little too much at times!

Tuesday's Stone Groove and Thursday's (((Shake))) are two of the longest-running one-nighters in the city. What do you think makes them so successful? The guys behind those nights are great to work with, there's a strong synergy between all of us. Along with the creative guidance of co-owner Carmel Ophir, they've done an awesome job of not only maintaining the identity of The Vagabond but adding their own flavor to it as well. Also, being passionate and having heart for what you are doing ... but that goes for anything in life really.

Speaking of success, is there a secret recipe for a successful night on the town? Be open to new people and new experiences. No matter where you find yourself embrace the company you're with and have no expectations of where the night may take you.

Speaking of secrets, what's the secret to being a good club manager? The three C's baby: gotta stay calm, cool and collected. You never know what sort of situation you might encounter on any given night. Working in an environment with so many different people and personalities over the course of a single night alone, you really need a deep understanding of people and how to relate to them ... from the staff to the patrons. That and knowing every little nuance of the club itself helps.

I imagine much of both will be in play during Winter Music Conference. What's the Vagabond got cooking this year? Six straight nights of solid, top-notch events. We kick off the week with a dose of Stone Groove: Homegrown' Edition, where we showcase some of the best local talent Miami has to offer. Wednesday we are hosting the annual party for NYC's top rated club Cielo. Thursday we bring to you a special WMC version of (bi-monthly resident) "Lil" Louie Vega's Dance Ritual party. From across the pond the UK-based DURRR residents Erol Alkan & Rory Phillips team up with Classixx, Aeroplane and others to create some chaos for our Friday night. Saturday, the one and only Mr. John Digweed. Then we round out the week of madness on Sunday night with a special DJ appearance by the legendary Afrika Bambaataa.

Isn't the Vagabond also involved in a massive off-site boat party each Conference? Yeah, that's something Carmel has done for a number of years now and is always one of the most coveted and exclusive events every WMC. Sasha & Digweed, two of the biggest and most respected names in house music, on a sunset yacht cruise -- priceless.
Of all the wild parties you've presided over during the past few years, do you have a favorite? That's a toss up. Live shows are always my favorite, and it's a toss up between two: King Khan and The Shrines -- sheer madness! One of the best live acts I've seen in recent years. The other has been seeing my boys -- and girl! -- Music Is A Weapon grace our stage. If you haven't heard them yet, you need to.

When you're not running the club, how do like to spend your time? At Jimbo's! Hanging with good friends, maybe catching a movie, cooking dinner. ... It probably sounds mundane to most, but after dealing with craziness all week, finding time to just relax and unwind is ideal.

What about on the rare night you get to hit the town -- where do you go? Being a jeans and T-shirt kinda guy at heart, I prefer more laid back, local spots. You might catch me hanging at Purdy Lounge, or The Room. .... One of my favorite new places is Kill Your Idol off Espanola and Washington. They have the most awesome jukebox I've seen in all of Miami. Be sure to check out the track selections on my own CD if your there!

What's coming up for Travis Carey? I'd like to move into more of an ownership role down the road. ... I've been privileged to work for two of the most respectable guys I've ever met in the nightclub world -- Carmel Ophir and Rodney Mayo -- and partnering up with them on new ventures is something I'm looking forward to. An opportunity to bring more of my Pacific Northwestern roots and influence down here as well. ... I love Miami but my heart will always be there.