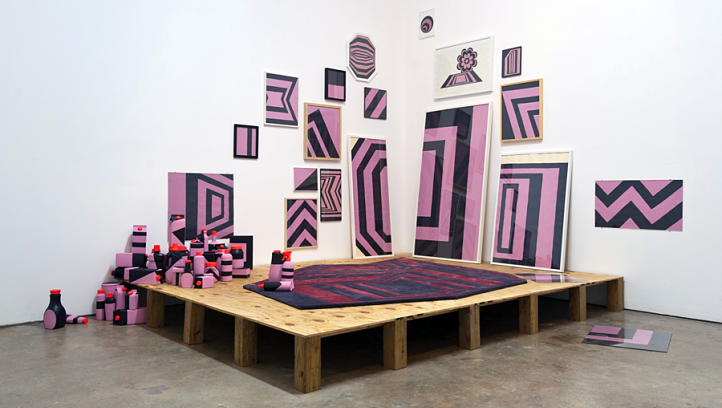 Of all the ambitious art spaces in Wynwood, none is perhaps more consistently ambitious than Dorsch Gallery. Helmed by the husband/wife tag team Brook Dorsch and Tyler Emerson-Dorsch, the art hot spot has been at the forefront of wow for some time now, and it's doubtful that will ever change. Currently Dorsch is hosting a trio of visualists so vividly harmonious they've agreed to chat it out this Tuesday night. Emerson-Dorsch provides some background.

Wanna tell us a quick bit about what's currently showing at Dorsch? We have three solo shows: sculptures and an installation by Felecia Carlisle, paintings and an installation by Michelle Weinberg and drawings and paintings by Elisabeth Condon.

What prompted you to mount three simultaneous solo shows? We often present three shows at once. With 2700 square feet of exhibition space, we like to split it up. Sometimes, we are fortunate enough to make constructive connections between different kinds of work.

What were some of the previous such undertakings? Some of the others have been Rene Barge, Robert Thiele and Brian O'Connell in 2010 and Richard Haden, John Sanchez and Jenny Brillhart in 2011.

In one such combination, of Brookhart Jonquil, Jenny Brillhart and Paul Myoda, Jonquil had a particularly ambitious installation in which he built a wall to appear as if it was the floor reflected. He was installing, finishing the faux concrete on the fake floor, just as we opened the doors for the opening reception. Brillhart's show went up with no fuss, but Myoda's installation was quite elaborate - he had to program his sculptures to respond to stimuli.

There are always challenges getting exhibitions up and open. But the way we come to understand and appreciate the work is often informed by the experience of installing them.

Do you think you'd ever dare it again? We, my husband and partner Brook Dorsch, and I cannot resist challenging ourselves and our space. We are also both really passionate about the art we love. We want to put up the best exhibitions possible, to present to the world the art we believe in.

Speaking of daring, do you see tonight's artist talk as a face-off or more of a mutual high wire act? No. It is not a battle or a reality show in which there is a winner or loser. It is a conversation between creatives whose practices (concepts and motifs) begin in very different places, but, whose ideas overlap in ways that surprised me as I was preparing the essays for the show. The daring part is in the commitment each artist shows to the work in her exhibition, in how to make it a whole.

So folks should brace for an insightful evening, no? Yes, absolutely. Part of the appeal is that these ideas are rooted, for each of these women, in experience, culture and readings. I look forward to hearing how Weinberg and Condon might see their work in relation to Carlisle's ideas of vibrant matter. Other key ideas are: Weinberg on dazzle camouflage and virtual space, Condon on freedom in painting.

Felecia Chizuko Carlisle, Elisabeth Condon and Michelle Weinberg discuss their current shows Tuesday May 29, 6:30pm at Dorsch Gallery 151 NW 24th Street Wynwood. For more information log on here.