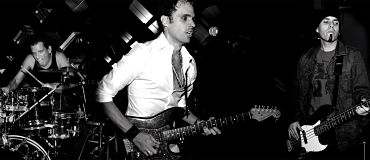 For the past few months a groove-making gaggle of racket-makers have assembled under the flag of Handsome Beats Brigade and taken over the North Beach Bandshell for an event called Heart Beats. Their goal: to ease the plight of the people of East Africa. November's line-up of do-gooding groovesters includes the rock 'em, sock 'em outfit Universal Citizens, who'll be joining the likes of Spam Allstars and Dusthead. Niteside got with UC's own Jeff Crespo.

For those who don't yet know, who (and what) is Universal Citizens? Universal Citizens is an original rock band formed by aliens under the names of Role (drums/vocals), Alexis (bass) and Jeff (singer/guitar).

If you had to sum up your sound in a single sentence, what would it be? A dance groove with a punk attitude and a rock 'n' roll vibe.

Can you please tell us a bit about Friday's benefit? Heart Beats for East Africa Festival is a benefit concert to raise funds for humanitarian aid in Africa. It takes place at North Beach Bandshell (72 Street and Collins Ave) on Friday Nov. 18th from 3pm til 11pm. There are many great DJs in the line-up, including Fernando Fumes, Ordep Zerep, Tomaz Hernandez, Axl and Axiom, as well as amazing bands such as Carlinga, Dusthead, Spam Allstars and us -- Universal Citizens!

How'd you get connected with the cause? Ronald Miguelerena, founder of Handsome Beats Brigade, who is running the whole operation together with his team, invited us to participate. When he shared his vision with us we loved it. Needless to say we are thrilled to be part of the festival.

What should fans expect at Friday's fest? A day full of great music and people... and from Universal Citizens the best f***in' rock show -- guaranteed.
Heart Beats for East Africa takesplace Friday November 18. For more information log on here.