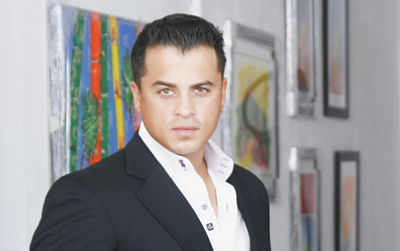 Congressional recognition might not be the first thing that springs to mind when you're talkin' about Miami nightlife; then again, when the person being recognized is as unique as Urban Icons' Alan Solis, there's bound to be all kinds of noteworthy surprises. As a marketeer, Solis's firm counts longstanding accounts such as Dewar's, Hennessy and Fendi Casa, in addition to the long-running Momento D Lounge; as a Miamian, his deep sense of civic-mindedness serves everyone from Habitat for Humanity to Latinos Unidos Foundation. It was those great good efforts which got Congress to give Solis the nod. And last week the Urban Icons chief flew up to DC to receive the Certificate of Special Congressional Recognition for Outstanding Service to the Community. The award was a distinct and well-deserved feather in the cap of the Dominican-American mover-and-shaker, as well as a fitting crescendo to National Hispanic Heritage Month.

How'd you come to be nominated for a Certificate of Congressional Recognition? I received a call from Alfredo Santamaria, Community Liaison for Congressman David Rivera. He said I'd been nominated to receive a Congressional recognition for my community service and leadership.

That's quite an honor -- how'd you feel when you first got word about it? Both humbled and privileged. I mean, this is the United States Congress! At the same time, the occasion encouraged me to consider devoting more time to culture and the arts, in addition to maintaining my support for non-profit organizations.

Who presented you with the award? Congressman David Rivera himself, as well as Congresswoman Ileana Ros-Lehtinen. Each Representative started the ceremony with a moving speech about community and leadership that elevated the audience's spirit and perfectly captured the occasion.

Had you met either member of Congress before that? No, I met both Congressman Rivera and Congresswoman Ros-Lehtinen in Washington for the first time. I was extremely impressed with how down-to-earth and real they were. Meeting those two face-to-face also confirmed the notion that the United States is truly a land of opportunities.


Were there any other DC bigwigs on hand at the Awards Ceremony? Yes, Congressman Mario Diaz-Balart there, and so was Senator Marco Rubio, who delivered his own powerful speech about Hispanics and the American Dream. Last but not least, Congressman Rivera's man, Alfred Santamaria, who coordinated the ceremony provided exceptional support to all the attendees, warmly welcomed the 105 honorees.

What about the post-presentation reception at The Florida House -- what was that like? The Florida House is a unique place in Washington. Funnily enough, as I walked into the Colonial-style, Capitol Hill building, the first thing that caught my eye was a Romero Britto sculpture. The reception itself was amazing -- replete with Latin food, music and cocktails, and it ended with an entertaining performance of traditional Colombian dancers.

Do you think your being recognized kinda proves that nightlife marketing can co-exist with good works? Absolutely, I think this situation occurs when one follows their dreams with passion and hard work, but never forgets to extend a helping hand. Before I started Urban Icons, I was fortunate enough to learn and receive advice and support from a strong core of highly-committed people. It now makes me happy to know that I can help others within my means.

Speaking nightlife marketing, what do you have coming up? I'm very excited that Urban Icons will finalize the year by teaming up with Alpine Creative and relocating back to Wynwood, where we'll continue to create the kinda powerful strategic partnerships that provide our clients with an even wider array of services. As far as events go, we have both the Dewar's Top Entrepreneur by Hispanic Target Magazine and The Dewar's Momento D Lounge with Ocean Drive coming up in November.