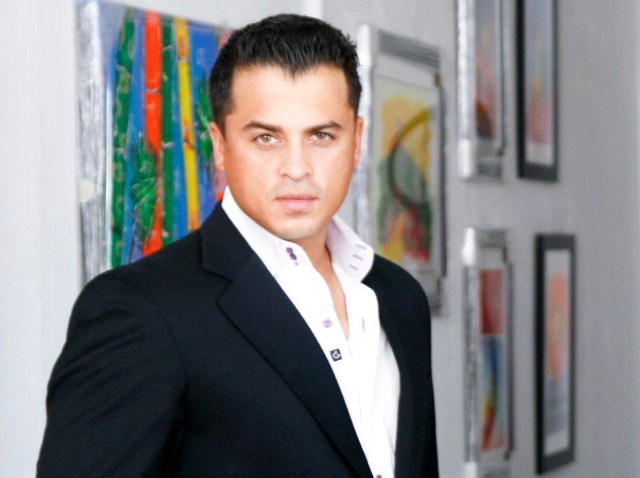 Urban Icons Marketing main man Alan Solis is behind the screening of "La Sola" this Wednesday night at The Olympia Theater at the Gusman Center for the performing Arts. Word is the film is action-packed, which means the 1926 movie palace will most likely be riddled with celluloid bullets. Niteside decided to go to Solis for the details.
You're with Urban Icons Marketing. Can you briefly tell us a bit about the company? Urban Icons is a marketing and production company that specializes in special events, public relations and event production. We work with out of state advertising agencies, local agencies, local venues and corporations, such as Pepsi, Moet Hennessy USA and Fendi, as well as local venues that need production work and the use of our consumer database. Right now I'd say 60 percent of our time is devoted to Latinworks (Texas ad agency) and Bacardi USA.

What exactly do you do there? I am the president and founder, and my job is to secure new business as well as to strategically translate our clients' needs into concepts. I also maintain the day-to-day of the business.

What are some of the challenges about building a brand in the Miami market? Miami is a melting pot of consumers from different nationalities with different tastes and a very low brand loyalty mentality. Consumers in Miami like to explore new brands and entertainment experiences. In order to captivate Miami consumers, corporations have to not only present unique branded experiences, but they have to constantly change those experiences based on current trends to maintain their brand positioning.

And some of the advantages? New brands have the advantage that Miami consumers like to be exposed to new products. This provides new brands with an opportunity to captivate an audience, if the product and experience are unique.

This Wednesday night Urban Icons is hosting a screening of "La Soga" at Gusman. What's that all about? "La Soga" is one of the most awaited Latin films this year. The writer, producer and main actor, Manny Perez, really created a masterpiece. Since the film's currently the talk of the town, especially with Latin media, we thought the premiere would be a perfect way to launch Dewar's "Momento D Lounge" in Miami.

Will this be the first time you've produced something at Gusman? No, actually we executed a not-for-profit event for Moet at Gusman back in 2008. I fell in love with the venue, and I was awed by the history and beauty of the space. In my eyes, the Gusman is a jewel of Miami culture. And it is the first space that came to my mind, once I inked the deal for the premiere.

What's coming up that we should all know about? On Sept. 10, we are producing an event called Latin Expressions at Cafeina where we're creating a fusion of Latin art and Caribbean sounds, again featuring the Dewar's Momento D Lounge. Following that, we're putting together an event called Top Entrepreneurs. It'll be a blast.

When you're not hosting an event, where in town do you most dig hanging out? Club 50 in The Viceroy, Sugar Cane or the Delano.

Besides Urban Icons Marketing, what's on the horizon for Alan Solis? In 2008, I launched Urban Icons Studio in Wynwood, an art space dedicated to showcase local talent. We also utilized the studio for special events and private gatherings. Unfortunately, the space has been closed for the past six months due to complications with the location. But I am currently in the final process to complete the re-launch of the studio, and this time we will bring even more cultural experiences and events. Can't wait!