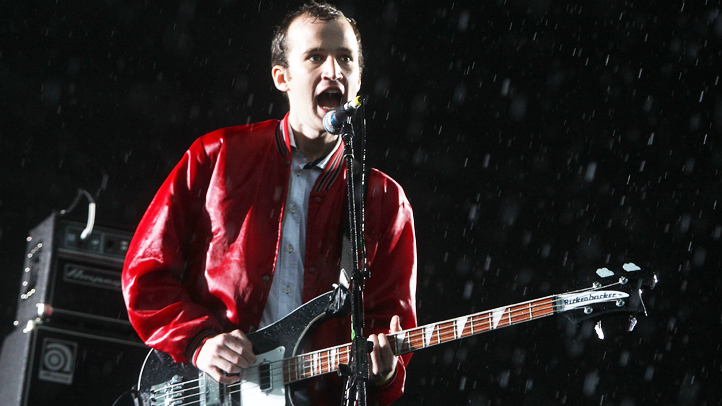 The bash is being brought about by an outfit called GBH, who've been throwing powerhouse parties such as "Cheeky Bastard", "Girls and Boys" and "Robot Rock" in NYC for over a decade now. But this ain't gonna be at Lotus or Hiro or Centro-Fly or Webster Hall or Kiss and Fly or Tribeca Grand or any one of the other Big Bad Apple hotspots GBH is known to blow up. No, this one's goin' down at EVE. And the main man on the 1's and 2's will be none other than Vampire Weekend's Chris Baio, whose boothed-up moonlighting has become something of a phenomenon. Niteside got with the beat-crazy bassist before he hit the MIA.

You're boothing up at EVE on Thursday night - wanna tell us a bit about it? I can't imagine a better Thursday night than one spent DJing in your warm city. I also have DVR at home so I don't need to worry about missing NBC comedies.

Will this be your first time spinning in Miami? Yes! I've been to Miami three times before but never to DJ. I absolutely love it there and am always psyched to play a place with a special connection to electronic music (WMC, etc.)

How'd you connect with Manny and the GBH crew anyway? I met Manny when I DJ'd at Webster Hall after VW played Radio City last September. The gig was pretty nerve-wracking but in the end I had a great time.

Wiki says while you were still schooling you were College Rock Music Director at Barnard's WBAR, was that where you developed your taste for turntables? I definitely fell in love with DJing while at school. At the radio station we had this program called "Rent-A-DJ" and I'd play records with other DJs at events and parties. At the same time I didn't learn how to properly mix until later.

I love the DJ's challenge of trying to get people to move. Sometimes it can be a very difficult thing!

How'd you come to work with WBAR rather than with Columbia's WKCR? WBAR was totally freeform, which appealed to me. I could play a Sean Paul song and a Family Fodder song back-to-back and it wasn't out of place with the ethos of the station. VW's drummer CT was very involved with WKCR. Their station destroyed ours the last time we played kickball in 2007.

Also prior to VW, you were in the country-influenced (Midnight Hours) - do you ever spin and/or drop in any of either genre? When I DJ I don't play the kind of stuff that influenced that band, but I definitely have a lot of love for that music.

What about the African music that has informed some of VW's music - do you spin and/or drop-in any of that? From time to time I play more recent dance music from Africa. Lately I've been really enjoying the Sound of Club Secousse compilation Radioclit put out last year.

What new Brit acts we might hear you decking on Thursday night? Floating Points, The Revenge, Faze Action, Psychemagik and a bunch of others regularly make it into my sets.

What about Yank acts - anybody new and/or now working for you on the dancefloor? I'm psyched on Tanlines, Midnight Magic and The Hundred in the Hands to name a few.

If you had to sum up your spinning in three killer words, what would they be? I'd describe it as a "hypnotic rhythmic picnic." I hope that sounds appealing!
Vampire Weekend's Chris Baio spins Thursday, February 24, at EVE, 1306 N Miami Avenue, Downtown Miami. Also on the bill Alex English and Run Sevim Run. Doors open at 10 p.m.