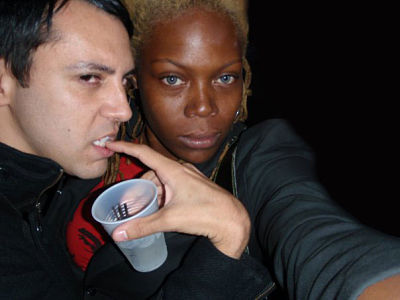 Brainchild of Ernesto Reyes and Erica Fickling, who between them boast being in on everything from Poplife to The Standard, Veni Vidi Vici is set to upset the status quo by day and by night. With a hot new Wednesday free-for-all officially launching this week, Niteside decided it was time to get the lowdown.

What is Veni Vidi Vici? Veni Vidi Vici -- which is of course Latin for "I came, I saw, I conquered" -- provides cultural programming and event planning for multiple venues. We focus on emerging talents, unique artistic visions and creating cultural experiences. Veni Vidi Vici aims to bring a fresh prospective to the Miami event scene.

Aren't you about to launch a new Wednesday at The Lords Hotel? Yes, the event is called "Game Lords." We've actually been hosting it for a few weeks now, but the officially launch party is this Wednesday April 20th, from 8pm-midnight. It's basically a throwback to "family game night" -- just throw in a little alcohol and a lot of debauchery. Guests have a chance to win cool prizes such as punch bowls, comped brunches and dinners, and a one night stay at The Lords. We typically decide what you win when we see what you look like. ;)

How 'bout that Sunday thing we keep hearing about? We host Brunch at The Royal (in The Raleigh Hotel) every Sunday from 11:30-3 p.m. The venue is incredible and the menu is amazeballs! There's nothing on the food or cocktail menu over $9. DJ Manuvers curates the music for the day. It's a perfect way to end the weekend.

Word is you're also soon to pull together a rather large production at New World Center. Wanna fill us in? Yes, it takes place on June 4th. The event is called "Synesthesia," and it'll be sponsored by Bombay Sapphire. "Synesthesia" is a multi-sensory experience incorporating all five senses. It features Dirty Vegas performing with a 30 piece orchestra, as well as scent technologies and visuals provided by Miami's-own CyberPixie and Laurence Gartel. There will also be a VIP tasting to satisfy that aspect of the senses. It's a one of a kind event that has never been done in the United States.

You two have been in some fast action, what do you think makes a great event anyway? A great event has good people, good vibes, good music and creates an overall experience.

So, shall we expect more of just that from Veni Vidi Vici? Veni Vidi Vici has a lot of irons in the fire. We can't speak of anything specifically at the moment, but stay tuned to see what we're cooking up next.