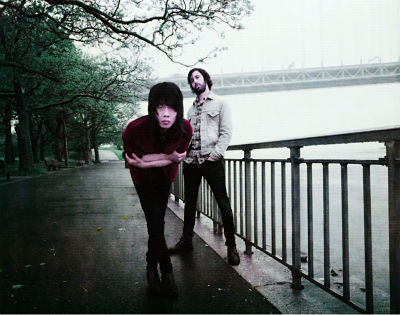 It's been nearly a decade since VHS or Beta's Le Funk first slipped into our consciousness -- and propelled us on to the dancefloor. A full seven years since Night on Fire did likewise. When Bring on the Comets hit in '07, we were ready to embrace the band in its entirety. With the racking of Diamond and Death last month though, we found even meatier beats and a more sublime VHS or Beta. So we're popping off all over again. Niteside got with singer Craig Pfunder before Saturday night's Grand Central show opening for Ladytron.

Congrats on Diamonds and Death -- it's quite an accomplished pop album. Was radio on your mind at all during the writing and/or recording? To be quite honest, we made a concerted effort to ignore pressures like writing songs that would be radio conscious. We've always felt that pressure in the past and really wanted to explore approaching the writing process with a clear, unobstructed view of the finish line.

How about the dancefloor (or is that simply an inherent aspect of the VHS sound)? We've always been pretty aware of the dancefloor but I don't think we've been confined to it. There were a few songs off of Comets that had nothing to do with dancefloors and on this new record I feel the same.

Speaking of the dancefloor, have any DJs come through with D&D remixes? There are a few remixes of "Breaking Bones" that are out and a few more on the way. The Cosmic Kids remix is a heater. Let me just say that we've got a few tricks up our sleeves as far as remixes go. Can't give it away right now but it's going to be out of the bag soon.

Speaking of DJs, does the track "Jellybean" have anything to do with the same-named headspinner? Truth is, I actually tracked a glass jar full of jellybeans and it was later decided that would be the name. Of course we all thought it was rad 'cause of Jellybean Benitez of which we're a fan of.

Word is there've been some personnel changes -- who went where, when and why? Mark Guidry our former drummer left the band after we finished touring Bring on the Comets. Everything was totally amicable and there is still lots of love there. I think the main reason for his departure was due to him starting a family and beginning that portion of his life. all of which makes tons of sense

So what's the current tour line-up? The current line up has us as a four-piece. Me and Mark [Palgy] added two awesome guys from Brooklyn and I think this version of the band is really hitting hard. We're all really happy.

Any special surprises -- aural or otherwise -- fans can expect this Saturday night? To be honest we've not been getting much set time as there are three bands but you'll hear old and new. the new stuff has been soooo much fun to play live and we can't wait to play in Miami!!! Been too long!

VHS or Beta performs Saturday night at Grand Central.