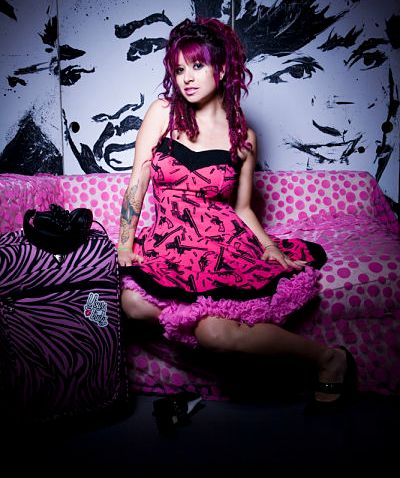 Admit it. You dig garden parties. Always have; always will. When they're filled with beautiful fairies dressed in Betsey Johnson all the better. This Saturday night Wasabi Fashion Kult takes over the garden at Control and the party will have you digging all over again. Niteside got with Kult leader Pamela Wasabi for the lowdown.

Before we get into this weekend's action, can you please tell us a bit about Wasabi Fashion Kult? WFK is an online magazine, I also call it a movement. We document what happens in the creative underground scene of Miami, promote lifestyle brands and produce events where the main vibration is how our culture expresses itself through fashion, music and art.
Is this the kinda Kult everyone will wanna join? If you believe in yourself, then yes. We are all about self-love and expression. We not only cater to the independent, fashion forward, girl-power kind of people -- we just are! -- but we welcome anyone with a passionate heart and hunger for freedom.
Who are some of your most major inspirations? WAD Magazine, and Diane Pernet. While I lived in Paris and before creating WFK, these two creative icons -- who I fell in love with -- showed me fashion from a different window. Before, I hated fashion and I stated it, but reading the magazine I understood fashion differently; it merged with music and culture, and it fascinated me. Diane is a fashion journalist and a filmmaker, she had a blog before everyone had one and was one of my instructors at a fashion seminar I attended in the French city. One day, not knowing what to do with my future and before coming back to Miami, she had a quick chat with me and helped me put all my thoughts and aspirations together.
Okay, now that that's settled. Give us the lowdown on Saturday night's throwdown. It's a very busy weekend for every WMC fan and for us culture lovers that will be hanging around the streets of Wynwood for ArtWalk. After that, I hope everyone joins us for Betsey Johnson's Midsummer Night's Dream. A living fashion sculpture show happening at Control's garden party and produced by your spicy fave magazine.
Is this the first time you'll be teaming up with the Fashion Walk Hall of Famer? I produced a Betsey Johnson photo shoot in the past and have collaborated with some of the hair stylists at Control for other projects, but this time the stars aligned together letting us combine our forces and produce a one of a kind event.
What do you think it is about Betsey that keeps her at the top of the heap? She is in love with life! Her passion breaks any barriers she might find. Her being true to herself has made many of us relate to and love her for what she has created with her brand.
How'd you initially hook up with her? The official introduction to her team of store stylists and Betsey herself was when a very special friend of mine -- knowing my infatuation with her -- invited me to Aventura's Betsey Johnson store where the designer was making an appearance. He interviewed her, I asked her some questions and couldn't hide my smile for a while. That friend of mine is now interviewing me.
If you had to come up with one line that would define Saturday's Midsummer Night's Dream what would it be? Lluvia de estrellas.

Wasabi Fashion Kult's Midsummer Night's Dream Saturday March 12, 10 pm at Control 2812 N Miami Avenue Wynwood. Admission is free.