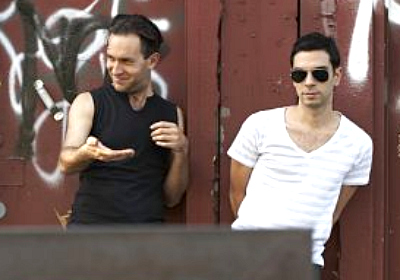 They were born Gadi Mizrahi and Zev Eisenberg. To the world, they are Brooklyn-based beatmakers Wolf + Lamb. The dynamic duo brings their gaggle of grooves to Electric Pickle this Saturday night in what promises to be wall-to-wall wild.

What is Wolf + Lamb anyway? Two animals unlikely to be hanging out with each other without one biting off a chunk of the other -- rumored to lie peacefully with each other in the times of Messiah. In modern times though, Wolf + Lamb is a family of dance music artists and producers based out of Brooklyn. It started as a performance name for us, but quickly grew to include a long-running series of underground parties, a venue, four record labels and, more recently, a slower, maybe even sexier style of dance music.

Isn't the sub-label Double Standard connected to the collective? Double Standard is Gadi's baby. It's vinyl-only, deeper and less mainstream than most of the Wolf + Lamb releases. Another outlet for the steady and increasing stream of music coming from our label's artists. In a down-market for vinyl, so far we've sold out and repressed everything in the catalogue.

And didn't you release a full-length W+L LP over the summer? "Love Someone," our first artist album. We made it over the year of touring in borrowed studios all over the Europe. It covered a lot of ground, a good part of it solid house and part the new freestyle-disco style we've been throwing around more recently. It was our first CD as artists and the first album our label put out, a real learning experience!

Are there any other imminent releases we need to know about? We've got the winter loaded with new music: a new W+L Black -- our bootleg label -- is about to be released with two amazing edits from 3 Channels and Cesar. "Plastic Dolls," the debut album of Voices of Black, our label's new superheroes, is also slated for release in mid-January. On Double Standard, we've got a record full of remixes of our darling Greg Paulus -- half of the uber-duo No Regular Play.

You were just in Europe again -- where did you play and how did it work out? I (Gadi) spent about three months living in Berlin and touring around Europe. My favorite places to play were Ego in Hamburg, Bar 25 and Farbfenseher in Berlin, and most my gigs in London were pretty awesome. I played at a very small festival (3000 person) in Croatia called the Garden Festival. That was pretty magical. We had put together a few showcases called "The Wolf + Lamb Experience" that were all very memorable, which is what we're going to bring to Miami this weekend.

Word is Wolf + Lamb are regulars at Burning Man -- how long have you been attending and what makes it so special? We're coming up on our ninth year, hard to believe. There's absolutely nothing like it in the world. We know this because we and our friends travel to festivals all over the world, and nobody's come back with reports of anything close to it. There's a magic in the air so thick you can practically see it, and once you go a few times, your whole life starts looking like one long Burning Man. Who's gonna complain about that?

Are there any other festivals that you two make a point of playing each year? Well we're about to have our third party here in Miami and the Winter Music Conference. And ... Gadi's fallen in love with the Garden Festival in Croatia, and we're going to make an honest attempt at doing that this coming year.

What can fans expect this Saturday night at Electric Pickle? We've got a trove of new stuff to try out, and, of course, a good taste of what's about to come. The Pickle's practically home for us, which means we're gonna play things way outside of our comfort zone -- it's going to make for an interesting night of dancing for everyone involved. It's also the first time we're coming together to play as a family in a while and we've all been building up for this for a while now.