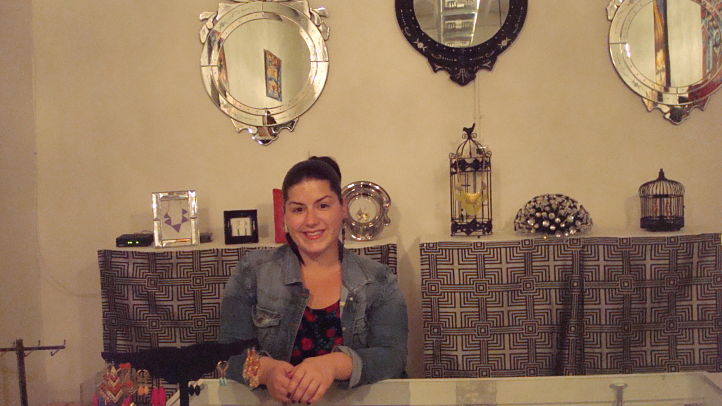 Apparently running the fashion-centric Scene PR Miami wasn't enough for Ysset Boan; neither was founding the ever-popping outdoor Art Walk StyleMarket. Now the keen-eyed gal is opening up her very own shop. She's calling it Style CTZN, and she'll be featuring the best and the brightest young designers and artists Miami's got goin' on. Hit the heart of Wynwood this Thursday evening to see what we mean.
Wanna tell us a quick bit about Style CTZN? Style CTZN is a concept boutique and gallery showcasing emerging designers and artists.
Who are some of the featured apparel designers? I'm super excited about Mathemagik as they are designed and printed in Wynwood in limited quantities and designs – in fact, the designer Joaquin Ortiz also designed and created the Style CTZN logo! This line is quintessentially Wynwood! FACA Clothing is another apparel line made with organic cotton and printed with soy-based ink. We'll carry men's and women's apparel from both brands.
How 'bout accessories? Apparel and accessories designers will rotate and be added almost every month. This month I'll be carrying Loud Chic python- and croc-embossed clutches, jewelry by both Banana Graphika and Tiklari, Recycle My Bag by Migdalia and Souza Weich handbags from Colombia, just to name a few. Next month we'll be adding Rebel Chic NYC and Street-Luxe, formerly from Miami now based in Tampa.
This being Wynwood, Style CTZN also has an art component, right? Yes, absolutely! Currently we're displaying the artwork of Puerto Rico-based Fernando Mora; next we'll feature local artists Ginger and David Harris, aka Enchanted Plastic. In addition to the artwork showcased within the store, which we'll rotate every few months, we'll be offering the storefront facade to artists as a large canvas ... which I have dubbed "Murals in Motion."
Will you be throwing an opening as each new artist's work gets installed? Yes! I'll have an unveiling for each of our murals as well as for each artist, but there are more surprises to come!
Speaking of openings, what's on tap for Thursday's Grand Opening? Thursday will definitely start Style CTZN off with a bang! Music by the always stylish DJ YSL, cocktails by Wynwood's own Miami Club Rum, savory bites by Joey's Wynwood and sweet treats by Yummy ChunBuns. The Grand Opening will be a mixture of style and eclectic charm!
Any advice you wanna give to the soon-to-be Style CTZN before they arrive? Come as you are and be ready for great fashion, art and people! In my eyes, everyone can be a Style CTZN.
Style CTZN's Grand Opening is Thursday, Oct. 18 from 6 p.m.-10:30 p.m., at 218 NW 25th Street in Wynwood. For more information call (305) 389-1545 or log on here.