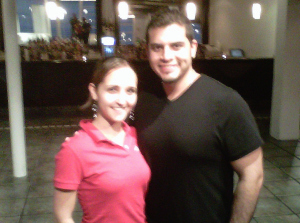 Miami void of salsa is, well, not Miami.

In these parts, it's the two-step of choice, a rhythmic shuffle that exudes the sensuality from the city in which it thrives.

"Salsa brings out the sexy in you," said dance teacher Denisse Cambria late Wednesday evening inside Lincoln Roads Yuca Lounge.

It's where every Wednesday night, locals and visitors alike gather to learn the dance that's got America tuned in. Miami's own Chad Ochocinco Johnson has, for the time being, traded the pigskin for the dance floor. The class, Salsa Mia, has become South Beach's prime tutorial for salsa 101.

Dhani Jones of the Travel Channel's "Dhani Tackles the Globe" even stopped by for a lesson, bringing the cameras with him.

Cambria and her partner Alex Ruiz work with enthusiastic students who'd like to master Johnsons technique. Cambria, diminutive but dynamite on the dance floor, said salsa encompasses a persons signature swagger.

"It's a basic step, but everyone has their own style that you can make your own," she said.

Swagger is a department, the Venezuelan-born Ruiz said, he found himself lacking in until he found salsa.

"I always loved dancing with girls, but I wasn't very good at it," said Ruiz.

Now, when he dances he can "get a good read of the person" and "can really feel what they're feeling."

Besides, salsa for all it's fanfare is indeed a man's shuffle.

Joked Cambria: "Yep, the guy leads so if the couple messes up it's his fault."