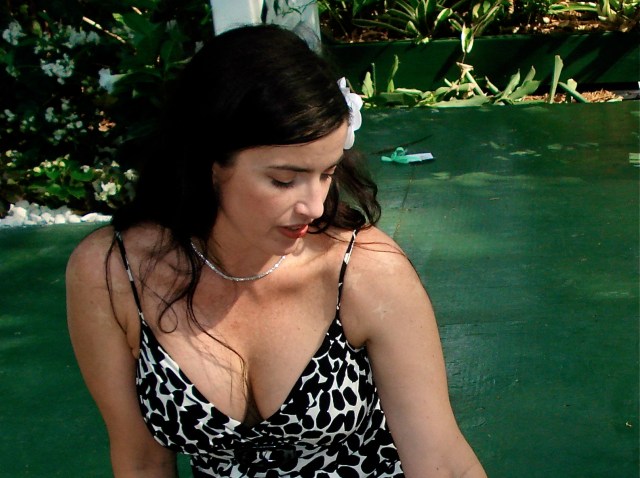 Nicole Soden may be Vagabond's "It" girl but she's also an artist, curator and performer. She's staged most famously at Back Door Bamby, where she is, in effect, the namesake dame. And she can soon be seen alongside the TM Sisters and choreographer Katie Stirman in Panic Bomber's video for the track "Getting On My Mind." And, of course, every Tuesday, Thursday and Friday night she can be found handling the door at the NoDo hotspot Vagabond.

You're one of the founders of The Irrepressibles, a group of sculptors who work between Miami, Florida, and Massa, Italy. What's the story behind that? Pure serendipity. I still think I am dreaming when I consider it. Sometimes if you just take a minute, step back and look at the big picture, you'll start to notice some patterns in the chaos. That is how Chris Allen Darsow, Tizeano and I found each other. About six years ago my mentor, R.F. Buckley mentioned that there was an apprenticeship that I could check out to learn the ways of the old masters. ... Just recently I was fortunate enough to link up with Chris and he shared with me his experience of going to Massa to apprentice with Tizeano Gozzani, the master sculptor of Carrera. I expressed my interest, showed him my work and the rest is history. I am handling things here in Miami and I will be joining the group in Italy in June. We will work in collaboration until October on 3 different projects for Basel 2010. ... One of the things we are working on is a land mine awareness project.
If you were forced to cite one person (or one school) as a singular inspiration on all that you do, who (or what) would it be? The alchemists, for their passion, their madness and utter devotion to the concept of transformation. I believe that each person should be the change they want to see in the world.
You're a Miami girl. How as the art scene changed over the last 10 years? Less drugs and more brains ... It's nice. We've come a long way, but we are still a very young city. I think the most important thing that an artist could do to continue Miami's cultural development is to stay here and nurture the scene. Everyone thinks that they need to leave in order to 'ake it. I say do not seek yourself outside yourself. Miami is where I am. Miami is part of who I am. I am doing a lot of work with some Italian artists now. If I am able to bring that experience here I can enrich my environment.

You've been handling Vagabond's door since night one. How does that affect your work and your life? Carmel Ophir and I have a longstanding friendship and professional relationship. He has always produced quality events and his adventure as owner of the Vagabond is no different. I have spent years working in nightlife because it suited my schedule as a college student, artist and now mother. It affords me the opportunity to make a decent living at night while I develop my talent/skills during the day as well as take care of my amazing little girl, Jade Eleanor, who is 3-years old now. I enjoy working with the Vag because it is, in effect, the antithesis of the night club that you'll experience on South Beach. With their emphasis on the music and substance over style, soul wins out over the all mighty dollar every time.

What's next for Nicole Soden? Professionally: Marble. Personally: Anything that will make my little girl smile. She is the love of my life.

What are your favorite nightspots (for wining and for dining)? Solea restaurant at the W Hotel. Phenomenal. Also, any place with a good lecture or a workshop. ... I am a big nerd when you get down to it. The one thing that I am dying to make some real time for is the tango group that meets at The Biltmore Hotel on Tuesday evenings. I can't wait.