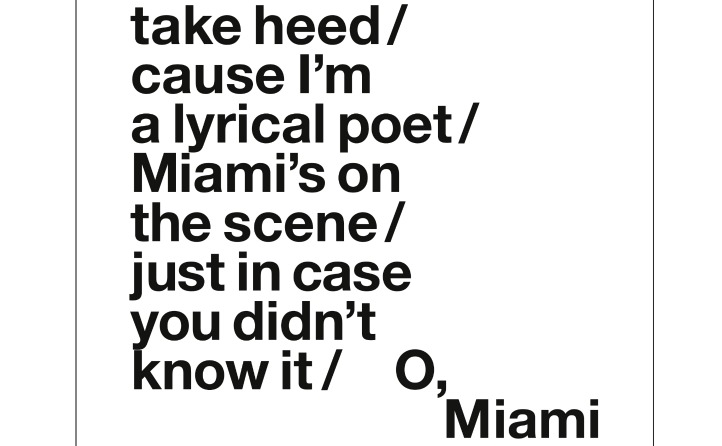 O Miami​ Director, and Founder of the University of Wynwood, P. Scott Cunningham thinks poetry — especially today's contemporary poets — aren't nearly as mainstream as they should be, which could be because it can often intimidate people.
"Poetry was taught to us with a lot of finger waving," Cunningham told Niteside. "There was a specific meaning you had to get, and if you didn't get it right, you got a bad grade."

He added, "One of the reasons we need poetry is that language changes so quickly. For instance, my grandmother wouldn't understand a word Lil' Wayne says."
To make sure everyone really understands poetry, Cunningham is instituting a month's worth of it with O, Miami's first ever poetry festival month. The goal is to reach Magic City's entire 2.5 million plus population through upwards of 30 events and 50 participating poets starting April 1, continuing until the Poet Laureate of the United States W.S. Merwin reads at the New World Center on Miami Beach on April 30.
"I think this project is perfect for Miami in a lot of different ways, specifically because there is a cultural renaissance happening in Miami in all the genres," Cunningham explained. "To me, this is a great time to write poetry too, there's always something crazy and weird happening here -- and it's sunny all year round, so you're always in a good mood."

As far as getting the word (or words) out to the masses, Cunningham says limericks will be popping up everywhere from art exhibitions, independent film screenings, to even soaring over Miami Beach on plane-flown banners. (Not that that the half-priced bottle advertisements that typically take up the air space aren't poetic in their own right).
And don't expect this to be the last time Cunningham faces this master undertaking.

"I'm planning to keep doing this, but definitely changing how it's done," said Cunningham. "We want to keep it fresh every year."