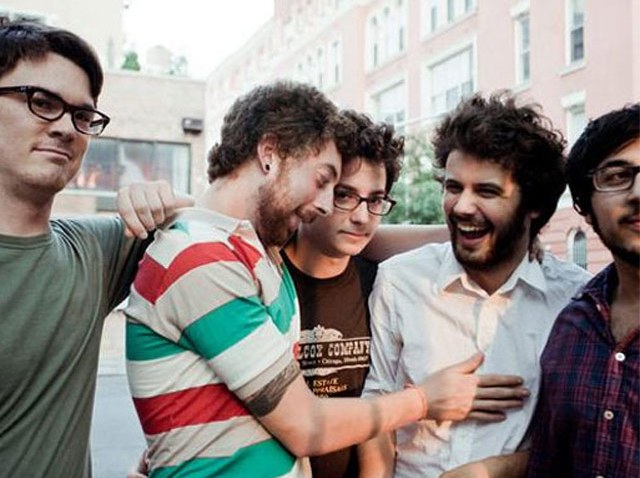 Don't get it twisted: Even though Passion Pit's dirty beats are only recently invading our iPods and dance halls, drummer Nate Donmoyer said it has been a serious labor of love.

"Compared to other bands, maybe it was kind of [a] fast rise to fame," Donmoyer said. "For us, it has taken a long time and a lot of hard work."

Even as the band stepped off stage during their sold out show at The Filmore and headed out to their exclusive after party at Coco de Ville, Donmoyer said still cant grasp his new found stardom.

"To have people love the music your making is unreal. It's crazy to work so hard on something and then have people in the crowds dancing and singing along," said Donmoyer.
Passion Pit was recently nominated for a Music Arts NewNowNext Award, released a debut album that generated tons of buzz, embarked on a national tour.
And with Donmoyer's adopted hometown of Boston in the NBA Finals, it seems the life of the 20-something drummer couldn't get much better.
"Things are going great for us right now. I would love to get in the studio with the guys of NERD or Timbaland. Really, they are so out my range, but in my dreams I would just want to watch them and learn," he said.

Quickly taking over the mainstream music scene one hit at a time but never forgetting his indie music roots, Donmoyer is glad to see Pit's original sound making an impact on his generations taste in music.

"Our music is pretty eclectic. Artists like DJ Lil Silva, Kingdom, Altered Native or really anyone on Night Slug records are putting out some of the best tracks I have ever heard -- 2010 is going to be a great year for music," Donmoyer predicted.

While he gives credit to bands like Prodigy and Nirvana for getting his musical juices flowing at an early age, it's artists like Lady Gaga who the music maven can't help but gush over.

"She isn't the first person to do what she does, but she is bringing it back-- which is important. Because of her, its now cool to be weird," he said.

And what does he think of Gaga's new controversial "Alejandro" video? "I genuinely like everything she does. Even if people think her video is super weird -- Gaga has made it so the next time someone does something out of the box, its going to be a little bit more accepted than before," Donmoyer said. "Which I have to say, is a good thing."