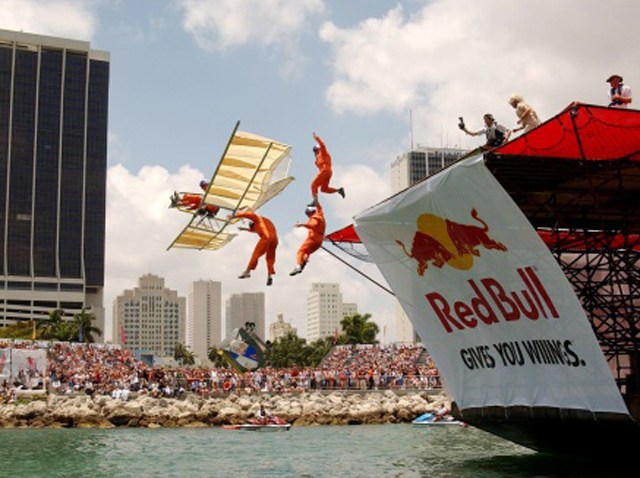 Miamians don't often see a day devoted to man-made flying machines launching into the Biscayne Bay, but we've seen it before.
Since the 2004 Red Bull Flugtag in Bayfront Park, and the first ever Flugtag in Austria in 1991, the "flying day" exhibition has traveled the world and returns to Miami Saturday.
While Miami's flight record of 33 feet hardly measures up to the 195 ft record, 2010 promises greatness, at least according to some teams. For the past couple months, teams of all ages and backgrounds have constructed "flying machines," created costumes, compiled skits and prepared for the great launch. The Flying Luchadores, Flying Manatees and the Rubber Ducky teams are among the 34 groups who plan to win, in one way or another.

"It's pretty sturdy but its not going to fly," said John Sulser, team captain for the Flying Luchadores. "We plan on winning for creativity and breaking the record for shortest flight ever achieved."

Sure it's an offbeat way to spend the afternoon, but Bayfront Park is planning for up to 75,000 spectators according to event planner, Jose Solano.
"Red Bull knows how to brand and get an audience," said Solano.
"People want to see the whole spectacle of it," Sulser added.
But if rainy season shows its dark colors, the event could be cancelled, and Red Bull would not reschedule. The teams like the Flying Manatees, who picked bamboo from a friends yard, The Rubber Ducky, who battled the weather, and Flying Luchadores, who crashed another team's selection party in the name of competition, will have the most to lose.
"It required lots of time, beer, duct tape and one team member's thumbnail, but in the end we hope it was worth it," said Moses Magro, pilot for the Flying Manatees.
"The mosquitoes would eat us alive every night we worked and if we worked during the day we would lose weight and energy being drained," said Peter Sheppard, Rubber Ducky pilot.
The competition, judged based on flight distance, creativity and showmanship, means flying experience and scientific knowledge is optional.
The Flying Manatees are aware of the animal's remote connection to aerodynamics but plan to win the People's Choice award with their locally inspired device.
"When the idea of seeing a giant sea cow strapped onto a hang glider came into our minds it was clear we had a winner," said Magro.