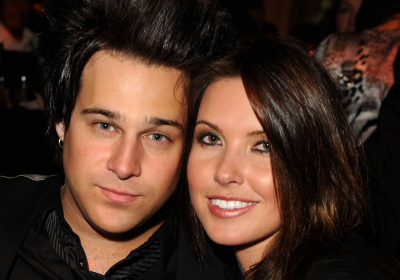 Rocker Ryan Cabrera batted down rumors late yesterday that he and "The Hills" starlet Audrina Patridge had split, saying the pair just finished spending time together for the brunette bombshell's birthday and there was no bad blood between them.
"Audrina is great," Cabrera told Niteside yesterday in Miami for his performance Wednesday night at Mansion.
"We just got back from Vegas celebrating her 25th birthday. She is currently in Costa Rica. Must be tough, right?"
Rumors emerged late yesterday that the spiky-haired pop star and the brunette beauty had called it quits after spending four months together. Though Cabrera brushed off the claims, he did confess that having his budding relationship unfold on camera during filming for the MTV reality series was difficult.
"I really wasn't looking to have my relationship on TV," he said. "But I guess I can't really help it. Honestly, I'm doing it to support her. That's it."
As for his own career, the 27-year-old whose single "On the Way Down" sold more than two million copies said he's getting ready to burst back onto the music scene.
"I have been working on my new album for three years now. All the new stuff won't be something people expect," he said. "Still pop rock, but more up beat. Lets call it dance rock."