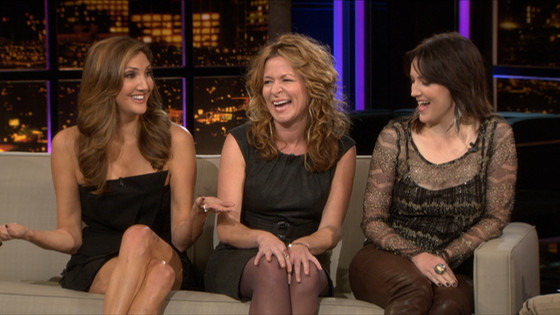 Chelsea Handler was recently named one of Time's most influential people of 2012. But almost a decade ago, she was a drinking buddy turned best friend to fellow comedian Sarah Colonna. Today, she still calls Handler a friend, but now she has to call her boss.

Colonna, recently in town headlining the Fort Lauderdale Improv at the Seminole Hard Rock & Casino, is currently a writer and roundtable regular on the hit late night talk show, Chelsea Lately. But when she isn't at what she calls her "day job," she is on tour as a stand-up comedian or promoting her New Yorks Time's bestseller, Life As I Blow It.

Lucky for us, she took time out of her jam-packed schedule to sit down and talk about everything from her South Florida roots to what she thinks of her E! coworkers. (Disclosure: Comcast is the owner of the E! network and this site).

Were you excited to headline at the Fort Lauderdale Improv this weekend?
I was. I haven't been there in a long time. My last trip to Miami was in and out, so spending sometime there was fun. My dad actually worked at the Miami Herald, so I grew up right outside of Hollywood. Oh and not to mention it was Fleet Week—it was fun.

Is it more nerve-racking to headline then to open for your boss, Cheslea Handler?
It is. I am terrified each and every show that no one will show up. It hasn't happened yet, so I am grateful.

Speaking of Chelsea Handler – you ladies have been friends for a long time, right?
We have. We met in a Improv class when we were about 22. Neither of us had been in LA very long. Actually, we were both really bad at the stand up class, but knew its what we wanted to do. Oh and the fact that we both liked happy hour, so after the class, we would head straight to the bar and discuss how much we hated class. We kind of figured out this life together. We would perform at the most random places. Once we performed at a Starbucks – it was bad. Fast forward years later and here we are.

Your book, Life As I Blow It, hit the New York Times bestseller list. What was your inspiration to write it?
It's a lot about the entertainment industry, but really I wrote it with everyone in mind. I think everyone can relate to the struggle of having a dream but having a hard time conquering it. Then while trying to get there, there are all those jobs you are forced to take just to pay the bills. I had those moments where I thought, "If I bartend one more second I am going to kill myself." But I worked my ass off and honestly, I never gave up. If anyone wants to do something with their life, I would tell them to never, ever give up.

What does it feel like to be a New York Times bestseller?
Chelsea (Handler) is actually the one that told me. She walks into my office and goes, "You're number five!" She was crying and then I immediately started crying. My book agent was keeping track of sales and told me that I would definitely make the list. But I didn't want to get my hopes up. Then to find out I made the top five, I mean, it was way beyond my expectations. I was so flattered.

Lets talk your Chelsea Lately cast. Tell me what comes to mind when I say their names.
Heather McDonald: Funny. As I walking into the office today, she made me laugh.
Chuy: Flirt.
Josh Wolf: Sexual. All the girls love him, but he is very, very married.
Brad Wollack: Inappropriate.
Jen Kirkman: Dedicated.
Chunk Handler: A*****.
Chelsea Handler: Fantastic.
Co