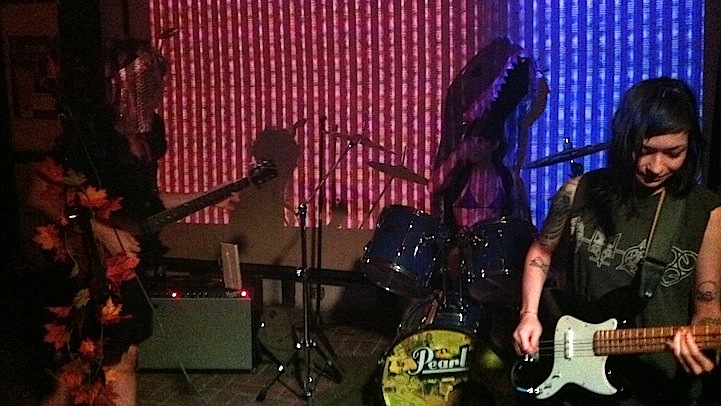 With a mix of punk, metal and tons of energy, Snakehole whipped the crowd into a frenzy Saturday night at Churchill's Pub. Along with the Jameses and Loose Stools, these three ladies with a heavy sound and suggestive name opened for the Jacuzzi Boys at their Glazin' album release party.
Autumn Casey and Julie Mejia have been making music together since the end of last year, just recently bringing a new and super talented drummer KC Toimil into the Snakehole fold. From the curb outside of Churchill's, they told Niteside about an upcoming release, their sonic influences, and creative process.
Coming out with a new album?
AC: We a have a cassette tape release coming out off of Kill/Hurt from L.A. They're going to do our tape release and probably a vinyl in the fall from the same label. We've got things that are in the air but nothing's for sure yet.
You're playing a lot of shows upcoming. Is that exciting?
JM: We're going to play two more shows, one at the Electric Pickle and then the 13th here (Churchill's) with Acid Baby Jesus and then we're going to plan a tour and write new music.
Where's your favorite place to play in Miami?
AC: Churchill's. We work here. It's comfortable, and it's like playing in our living room. It's like home here.
What's it been like for you, KC, to join the band?
KCT: It's super awesome. I'm super stoked. Everyday is more amazing than the last.
JM: And she's amazing!
Where do feel like you're going to go with this?
JM: We're just having fun with it.
AC: We're going to fade into obscurity (laughs) but in the best way possible.
Tell me about your T-shirts.
AC: My friend Kelly Williams is an amazing artist and she drew the image for us in one night because we were like, we need images. And then I screen-printed them all in my apartment.
Who are bands that influence you?
KCT: It's a mixture of pretty much everything.
AC: Black Sabbath, early '80s hardcore, '70s punk. It's hard to be influenced by any one thing in this day and age because of the internet.
How do you make your music?
AC: We make the music first and then we sit around and think about funny s**t and we make that into lyrics.
JM: She (Autumn) comes up with a riff or sometimes I come up with a bassline that she does a riff, but the cool thing about our band is we're all influenced by the same kind of music. We're always on the right track.
Catch Snakehole at Electric Electric on September 1 at the Electric Pickle (2826 North Miami Ave., Miami).