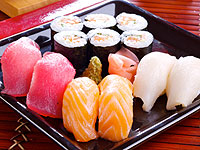 East meets West, er South, er, South Beach with two new Asian-themed restaurants: Zushi Flirt and Hakkasan. While both may be unconventional when it comes to traditional Asian cuisine, one is a little uncouth, too.

Flirt, which rolled into Z Ocean Hotel at 1437 Collins Ave. earlier this month, is a sushi lounge that takes food and sex comparisons to an extreme. After just hearing the motto: "We like it raw," you know you're in for a raunchy romp.

And that's just the tip. The menu is full of items that bring out sushi's not-so-shy side.

Is it a great place to bring a first date? Only if you want to hear her say, "I'll have the "Mi-so Horny" (soup) with "Big Balls" (seared spicy tuna balls), a "Climax" (lobster, avocado, cucumber, and caviar roll) and a "Sexpresso" with dessert. Definitely not the kind of place you want to accompany mom and dad—or worse, your grandparents.

Hakkasan, on the other hand, relies less on shock value and focuses on Shanghai staples with a modern-day makeover.

Housed on the fourth floor rooftop of the endless venue emporium that is the Fontainebleau, Hakkasan is the work of Alan Yau. A legend in England, Yau revolutionized the way Brits eat Asian bites.

Now Yau is on this side of the pond to change the way we perceive Asian cuisine, as the restaurant is the first of its kind in the U.S.

From its vintage-inspired décor (think silk lanterns, teak carvings, rich, dark wood) to its Sanpei Chicken Claypot and Jasmine Tea-Smoked Organic Pork Ribs, Hakkasan feels all too authentic, except, of course, for those views of the Atlantic.

Oh well, at least your date won't be embarrassed to order this go round.