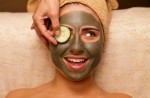 READY, SET, SPA: It's dark by 5. You've contemplated wearing jeans and long sleeves simultaniously at least once already. Ugh, winter in Miami is officially here. Don't let your looks dry up like those leaves on the trees up north. Keep it all in check with specialty spa treatments. Agua at the Delano offers up Silky Smooth in One Hour ($140) to keep skin soft and subtle with an exfoliation and moisturizing treatment to ward off dry, winter skin.

Agua at the Mondrian's Holiday Peppermint Treatment ($200) keeps holiday stress at bay with a hot peppermint massage using oil from a lit candle to work kinks out of muscles, followed by a Peppermint Pedicure for fragrant, feel-good feet.

Or, head over to the Spa at the Shore Club for Warmed Coconut Milk & Honey Ritual ($200) where Fijian honey and organic Fijian raw sugar work away dry skin and a hydrating masque massaged into skin with warm beach stones gives you a welcomed reminder of summer days past.

After you've spa-ed, slip over to the front desk and ask for your Relax and Repeat Spa Loyalty Card for 30 percent off signature treatments and other add-ons. See, winter isn't so bad after all. GET IT: Spa at the Shore Club: 1901 Collins Ave., Miami Beach; 305.695.3293. Agua at the Delano: 1685 Collins Ave., Miami Beach; 305.674.6100. Agua at the Mondrian: 1100 West Ave., Miami Beach; 305.514.1950.