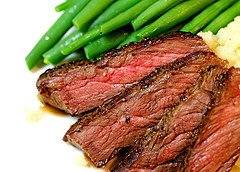 What does one call a steakhouse in Fort Lauderdale? Steak 954, of course.

While the name is simple, the menu at Steak 954 is anything but. From the kitchen of Buddakan and Morimoto's Stephen Starr comes tempura onion rings, foie gras tacos, whole pompano with smoked paprika and the almighty Kobe cheesesteak.

While most eateries with a chef of this caliber usually wind up on the Beach, Steak 954 is firmly planting its roots at the newly opened W Hotel Fort Lauderdale, leaving beach bunnies hopping left and right to the newly opened, 200-plus-seat meat market.

There's more than just food to keep the Miami-Dade imports entertained. The restaurant houses a 15-foot fish tank, complete with jellyfish, smack in the middle of the dining room.

Once you tire of watching the fish swim to and fro, journey outside for a tropical garden even Adam and Eve would envy.

Speaking of the jealous type, don't hate your neighboring city for having a more posh restaurant presence quite so fast. As Starr tells Daily Candy, he isn't snubbing Miami entirely. "I'm looking for a space to do Buddakan there."

But for now you'll have to make the schlep to get this steak.