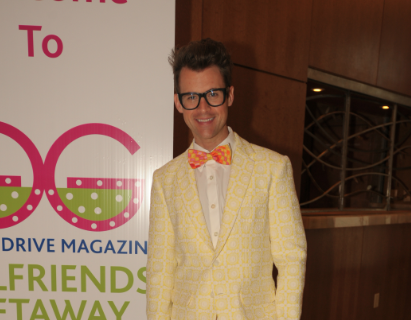 Celebrity stylist Brad Goreski has survived high school bullying, a drug and alcohol addiction and an internship with Anna Wintour at Vogue. But a professional breakup with former boss and fashion icon Rachel Zoe was almost too much for him to handle,

"I'll be honest, it really hurt at first," he told Niteside, "My intentions were that we would leave and be friendly, but that isn't what happened."

Goreski, in town to host events at Ocean Drive Magazine's Girlfriends Getaway Weekend at the Loews Miami Beach Hotel, has had quite the year since going solo. From styling A-listers like Jessica Alba to releasing his book Born to Be Brad: My Life and Style, So Far, it seems the 35-year-old has hit his fashion mark.

So before heading back on the road to finish up his book tour, he sat down with us for some good ole fashion girl talk. We mean, we were at a Girlfriends Getaway Weekend after all.

Niteside: How do you like Miami?
Brad Goreski: I love Miami. Great restaurants, great clubs. People just come here to have a good time, unwind, relax. I mean, I am here for work and it doesn't really feel like it. I even brought a couple of friends from New York. Its very "what happens in Miami, stays in Miami."

Tell me about your book, Born to Be Brad: My Life and Style, So Far.
I am so proud of it. It's part memoir, part style guide. I wrote it because I felt like people had one side of me and who I was. I really wanted to round out the picture and show people that I didn't have a shot to stardom. I have faced a lot of challenges and obstacles. If you are stuck or if you feel like things aren't possible for you, I am living proof that things are possible for everybody.

Do you feel a little venerable people knowing about things like your sobriety and your strained relationship with your father?
In some way, having it all out there is freeing. People will ask, "Why isn't Brad drinking?"
Well, its because I have been sober for 10 years – I had a drug and alcohol problem and I talk about that in my book. It was like closing those chapters of my life and starting this part of my life with my business, my book, my own show.

Your show, It's A Brad Brad World, was a big hit. Was it strange to have your life on TV?
Its weird. You film the show and then it disappears for like six months. Then all of a sudden, its back and people are actually watching it. It was a big gift. Gary, my partner, learned so much about himself doing the show. I feel so lucky that I did a reality show, and most of the response I have gotten has been so positive. It's a nice feeling.

Viewers have watched you get to this point in your career. Was there a project you thought, "Wow, I made it."
Working with Kate Spade. Having the opportunity to work with such a iconic American brand was just such a blessing.

Have any tips for aspiring fashionistas?
Work hard, get as much experience as you can, don't expect it to happen fast, intern. Be prepared that it's a lot of work. But the fashion business is like any business – meet the people you want to work with, study what they do and start putting the pieces of your life together.

Was it hard not to have your former boss, Rachel Zoe, support you when you left her company?
It did early on. Now, I don't really care. I have moved on because it was time to grow up. It was time to go our separate ways.

It seems she still has a lot to say regarding the separation.
Yes, that seems to be the case. I made it clear in my book that my experience with Rachel was fantastic. My intentions were that we would leave and be friendly, but that isn't what happened. I am not trying anymore. I am over it.

Any plans for a clothing line?
Not sure about a clothing line. I am really focused on my girls. Maybe an energy drink?