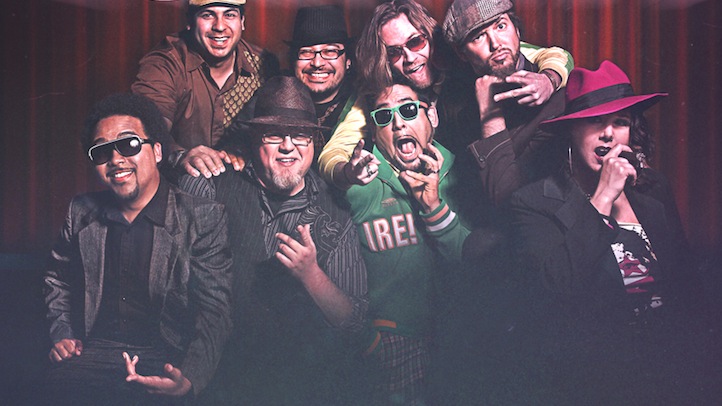 Suenalo Sound System is a band that holds great weight in this town. This isn't just because their music is so popular, though it is, but also because there are so many talented performers in the band. Each represents a different part of the world, they coming together to bring Afro-Latin funk fusion to the deligted ears of fans and new listeners alike. There are eight full time members and many other auxiliary players in their group. Just this year, they were awarded the Best Latin Band by the Miami New Times. While some bands morph with trends Suenalo merely changes their lineup and evolves, creating quality fusion music that defines this town.
We caught up with vocalist and MC Amin De Jesus to talk about their show tonight at The Stage, celebrating this new live music venue's one year anniversary. Since Thursday night, the bar's been full and the dance floor has been shaking, but tonight, Suenalo will bring their particularly spirited energy and full-bodied music to the crowd.
Niteside: What's your favorite thing about playing at The Stage?
De Jesus: Seeing the crowd from the inside to the outer patio area go nuts. The light changes from the incandescent red in the venue to the cool and sometimes harsh translucent warmth of the street lights. It's an incredible sight to see the crowd lit that way. And you can see them all from the stage.
Do you have any thoughts about performing at the one year anniversary?
It is an honor and feels so right. We've been down with Carlos since the beginning and this anniversary is a culmination of what he's been working so hard for. It's a beautiful moment Suenalo is really happy and proud to be a part of.
You guys have been making awesome music in Miami for a long time now. What's up next for the band?
Suenalo's lineup changes drastically and erratically at times. This always changes the sound and influences the rhythm, we're in the mix with our new project and very excited as it explores this aspect of our music. Aside from that we plan on doing some traveling this year, so stay tuned.
Can you tell me about your role as the MC?
What I do with Suenalo differs allot from the role of MC I'd been accustomed to seeing at hip hop shows growing up. It's a lot closer to the traditional or original description. I often feel like a ringmaster, presenting these lions clowns and elephants to a public that loves it. I rhyme, I sing, but most of all I have a blast.
Do you play other instruments? Have you been in other bands? Do you write music?
I play a little minor percussion, aside from that, it's just the voice. I currently ride or die on a few family projects with Electric Kif, Afrobeta and the BeatMachines however SUENALO is my first and my always.
What kind of music do listen to?
A little bit of everything.
Like what's on your iPod right now?
Ok, first 10 tunes in my current playlist: 1. "No me den candela" by Willie Colón 2. "Quiet Dog Bite Hard" by Mos Def 3. "Feral" by Radiohead 4. "Dance on Glass" by QTip 5. "Colourless Artibella" by Major Lazer and LaRoux 6. "New Broom" by Horace Andy 7. "Chambacu" by Aurita Castillo 8. "Trouble Sleep Yanga Wake AM" by Fela Kuti 9. "I Will Not Apologize" by The Roots 10. "Spiderbite" by Beats Antique, and I just parked!
Where do you see Latin fusion music going generally?
Outside of the limitations that has held it back as a "sub-genre", with the explosion of artists being able to self promote through the multitude of digital mediums available, suddenly everyone is experimenting and exploring. It's been happening here in Miami, but now I see it happening everywhere. So, I expect the genre of Latin fusion to follow suit. As its name would imply, that's kind of its thing.
You also perform with Afrobeta. What's that like?
So much fun! Cuci and I have great stage chemistry and she is just awesome, Tony is my brother from another mother. They sound so good! It's always an incredible time. They both have been in Suenalo, and are incredible artists I'm proud to jam with and call friends.
Doors open at 4 p.m. and admission is free at The Stage 170 NE 38 Street, Miami.