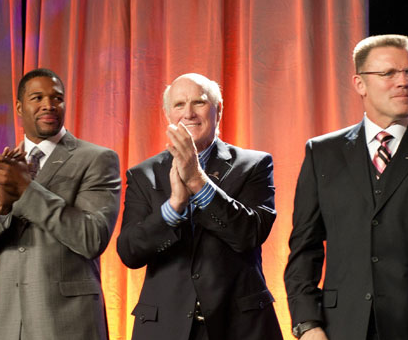 There are sports stars, then there are legends. If you are looking for a couple of those elite few, you can check the Pro Football Hall of Fame. There, you will find retired quarterback Terry Bradshaw.

Bradshaw, most well-known for his time with the Pittsburgh Steelers, is an author, broadcaster, investor and mostly recently, a philanthropist. Along with Today in America TV, the NFLer is currently promoting a "Touchdown with Terry," a online video contest for any sports team, in any city, any school district or any travel team. The most convincing squad that demonstrates perseverance both on and off the will receive a $10,000 scholarship to help them through these tough economic times.

So in between promoting "Touch Down With Terry" and his multiple other gigs, we chatted with Bradshaw about everything from his tremendous career to what he thinks about Linsanity.

Niteside: What inspired you to start this contest?
Terry Bradshaw:Three main factors: You look at the obesity issues in today society; especially in youth. It's very hard to pull kids away from the Internet, video games, TV and technology. Outside of the physical benefits from sports and recreation, the mental benefits are so important to children's development. From sportsmanship, team building, confidence, art of winning and losing. Also lots of cities and sports facilities have had budgets cut and just can not provide adequate equipment, fields or officials to run league.

Would you say sports can be a defining thing on a child's life?
Just from the social engagement and activity with peers, you can make life long friends. You can learn that there is more than just winning and losing; it's fun. You can gain confidence.

Looking back on your tremendous football career, is there one that stands out as your greatest achievement?
Just being able to play the game that I truly love. It was my job, but never felt like a job because I love the sport. I live for the competition.

Is there athletes playing now that you watch play and think, "Wow!"
Troy Polamu. When you look at a football team, you never say one player can make that much of a difference, but Troy is that guy. His passion and intensity elevates the teams attitude and gives them a competitive edge. Also, what he does off the field makes him a role model for all.

Pittsburgh Steelers-are they who you root for during the NFL Season?
Yes, but I am fan of the game. I love the NFL and watch as many games as possible. I love to see good competitive games.

I have to know: What do you think of all this Linsanity for Jeremy Lin?
It's great for the sport and only wish him continued success. I have never seen a player in any sport explode with such a media presence like him before. It's great to see one of the best sports venues in the world filled again.