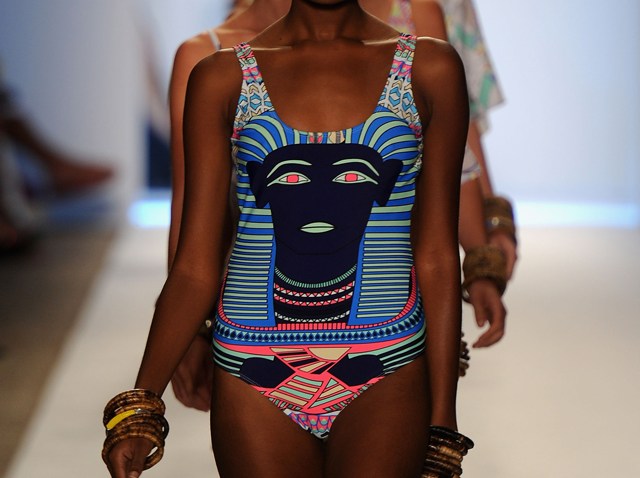 String, Brazilian, boy short or thong -- however you wear your it, there were endless options at this year's Mercedes-Benz Fashion Week Swim. The Raleigh Hotel, the official site of the shows, housed many models, an endless array of swimsuits, throngs of fashionistas and an upcoming season's worth of trends. Here's what to keep in mind when getting suited up:

Long Live Boho
Hippie chicks, rejoice. As the catwalks proved, there is no shortage of the boho trend for the next season of swimsuits. Mara Hoffman reined as the queen of boho with chevron stripes, busy, '60's-inspired patterns and ethnic beaded details. L-Space by Monica Wise sent a fair share of Boho nomads down the runway, too. And Dolores Cortes got in on the action with tie-dyed rainbow suits. Our favorites for capturing the look: the green, feather-print strapless one-piece at Mara Hoffman and the purple fringe bandeau bikini at L-Space.

Island-Inspired
Poko Pano, Dolores Cortes, Sonia Vera and Caffé Swimwear all booked their tickets to paradise. With pineapples, palm fronds, monkey prints and grass skirts at Poko Pano, hibiscus-colored suits and prints at Caffé Swimwear, flamingo-pink bikinis at Dolores Cortes and bold flowers at Sonia Vera, you could practically feel the island breezes.

Solid Statements
Amid the sea of patterns, some suits managed to make solid statements with nothing more than color. Dolores Cortes and Wildfox did so with neon pink, while Beach Bunny stopped the show in blue sequins. Caffé Swimwear captured the look in a brilliant orange-red and a powerful, bold blue, while Kooey did so with neon orange. And L-Space managed to make yet another trend with its purple fringe bikini.

Back in Black
Despite all the color options on the catwalk, solid black suits managed to pop up at almost all the shows. L-Space relied on a basic black bikini to meet the trend, as did Dolores Cortes, Wildfox and Crystal Jin. Also alike, these LBB (little black bikinis) seemed to be on the skimpier side. Here's to hoping black really is slimming. Mara Hoffman faded to black with cutout one-pieces with rope-like detail. Aquarella also did basic one-pieces with cutout detail sans rope. Our favorite, however, was White Sands' black one-pieces with uber high-cut thighs. Very '80s, early '90s and uber sexy.

Feeling High
Back in the '50s, Ester Williams used to film scenes at the Raleigh pool. This next trend is one we think she would approve of: high-waisted bikinis. The throwback suit was seen at Wildfox in denim and uber-tiny cowboy print, at Mara Hoffman with an above-average high waist and again with lace-up sides and closing the bridal portion of the show at Beach Bunny. Have Faith got in on the trend, as did Aquarella and Nicolita, who both showed high-waisted with ruched bottoms.

Ruched Reigns
Where high-waisted suits gave off a distinct demure feel, this next trend left little to the imagination. Ruched detailing made for a cheeky take on bikini bottoms and was seen at Beach Bunny -- on almost every suit, nonetheless -- Dolores Cortes, L-Space, Have Faith, Aquarella, Kooey, Nicolita and Tavik. We personally love the trend and think the gathered fabric gives backsides an instant lift.

Birds of a Feather
When in doubt, adorn it with feathers. That seemed to be the mantra for this year's show. Crystal Jin adorned models' hair with feather extensions, while Dolores Cortes made feather bracelets and necklaces for her bold suits. Tavik and Have Faith opted for feather earrings. And Poko Pano send a model down the runway in a to-die-for feather headdress, while Mara Hoffman planted her feathers on her patterned swimsuits. Our favorite, however, was the Black Swan-inspired headpiece at White Sands seen in both black and white.

Quirky Coverups
According to this year's shows, your gauzy, long cover-up just isn't going to cut it anymore. Sure, there were still flowing dresses on the catwalk, but this year, designers took it outside of the box with leggings as a cover-up at Mara Hoffman, grass skirts at Poko Pano, vests at Beach Bunny, Mara Hoffman and L-Space and catsuits at Dolores Cortes. Wildfox had a very casual approach to cover-ups with blanket-sized beach towels, while L-Space used a floppy beach hat to cover up her final model's bare chest. However, you choose to cover it up, keep in mind anything but average goes.