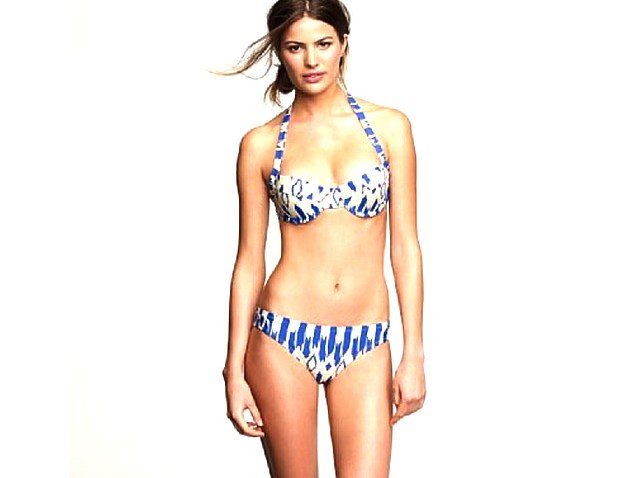 Triangle, bandeau, halter—whatever shape you prefer for your swimsuit, there will be plenty to choose from when Mercedez-Benz Fashion Week Swim takes to the runways this week. To celebrate Miami Beach's most awesome fashion event, we're dedicating this week's Beauty Beat to all things swim, like Lush's Ocean Salt Facial and Body Scrub, La Mer's Creme de la Mer Limited Edition creme, One Bal Harbour's Saks partnership and Equinox's Runway Ready class.

BEAUTY: Before you suit up, you must first slough off. Get your epidermis swimsuit ready with Lush's Ocean Salt Facial and Body Scrub ($18.95 for 4.2 ounces, $30.95 for 8.8 ounces). Thanks to coarse and fine sea salts, you can give your skin something to glow about. Plus, the salt granules themselves are loaded with minerals that bring skin back to life. Now that you've scrubbed, it's time to quench your skin's thirst with La Mer's World Ocean Day Creme de la Mer Limited Edition. The 100 ml blue bottle was created last month to raise awareness and funds for World Ocean Day, but it's stil around so you can indulge your skin just in time for swimsuit season. GET IT: LUSH Aventura Mall, 19575 Biscayne Blvd., Aventura; 305.935.7022. La Mer available at Saks.com.

SPA: Headed to town for swim week? Consider booking a stay at One Bal Harbour, just for the spa and makeover perks alone. This summer, the resort is partnering up with Saks Fifth Avenue for the Saks Fifth Avenue Exclusive Offer. Guests get access to Fifth Avenue Club, a shopping experience with a personal consultant, a complimentary makeover at Saks by an expert makeup artist using high-end brands like Chanel and a $100 credit to be used toward the resorts amenities. Hello, spa treatment! Before you know it, you'll be runway ready—with a comfy bed to boot. GET IT: $395 a night. 10295 Collins Ave., Bal Harbour; 305.455.5459.

GYM: Fact: The models who will make it down the runway this week will, without a doubt, look like they've never had a Ben & Jerry's splurge fest, ever. Maybe you can't give up your love affair with Ben and Jerry, but you can do something to burn off those calories. And, after you've seen these models in their swimsuits, you're going to want to. Time to head over to Equinox South Beach. Get in shape with the new Runway Ready class. It's 60 minutes of calorie blasting using traditional step platform equipment vertically placed in front of you to give the class a runway feel. You'll spend 15 minutes doing a step pattern routine in stability heels or sneakers, then you'll take on a pair of hand weights for 30 minutes of body sculpting. The class culminates with a 15-minute core and butt routine, because those are the areas that you just can't hide in your swimsuit. By the end of class, you'll feel like you've been put through the ringer, but you will have burned more than 500 calories, all the while enjoying top 40 hits. Model what? GET IT: Mondays at 9:30 a.m. 520 Collins Ave., Miami Beach; 305.673.1172.