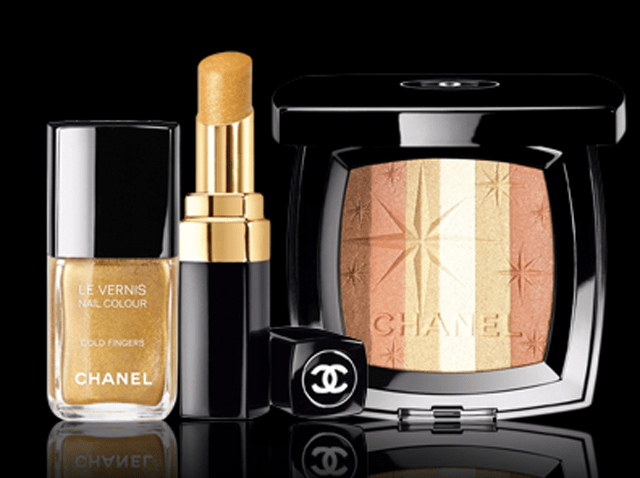 Chanel is at it again with its Las Vegas collection, but you can also get an outstanding glow from the new The Youth As We Know It Night Facial at Bliss. And be sure to stop into JugoFresh to do a little workout for your insides.

BEAUTY: Gold, it sets the standard. It's the medal you aim for. It's the pinnacle. No wonder Chanel opted for the shade for its Las Vegas de Chanel collection. At the forefront of the collection is Le Vernis in Gold Fingers ($28). The shimmering polish is straight up gold. And guaranteed to get your fingers noticed —and envied. You will, after all, have the golden touch. Lucky Stripes ($95) powder for eyes and cheeks is also brimming with shimmer. And Rouge Coco Shine ($32.50) sheer lipshine in Brilliant encourages him to just go ahead and go for the gold. GET IT: Available online at chanel.com.

Keep the Vegas spirit alive by testing your luck and saving the planet with Van Michael Miami Salon's Earth Month Raffle. Now through the end of April, purchase one ticket ($10) or two ($15) for your chance to win eight free haircuts throughout the year. You'll also score 20 percent off Aveda products on the day you purchase your tickets. Proceeds benefit Clean Water Fund. GET IT: 1667 Michigan Ave., Miami Beach.

SPA: Life, it ages your skin — especially the nightlife. Now Bliss has a way to let the night put back what its been taking out for years with The Youth As We Know It Night Facial. Start off with a massage and cucumber eye pack, add paraffin pack to hands and feet and a hand/arm and foot massage. Get all this after 5 p.m. so you can truly take in a little p.m. R&R. Did we mention it comes with milk and brownies, you know, for an nighttime treat? You can even purchase The Youth As We Know It Night Cream to keep up with the spa treatment at home. GET IT: $185 for 60 minutes. Cream is $79 at sephora.com. Bliss Spa at W South Beach, 2201 Collins Ave., Miami Beach.

GYM: You've been crunching away at your abs for years. Ever think about giving your stomach a workout? Not your muscles, per say, but your actually stomach? Consider JugoFresh your internal trip to the gym. It's also a vacation from the hard work of digestion. The juice bar serves as a depot for juice fasts and detoxifications. Just chat up owner Matthew about which of his three fasts work best for you. There's one for beginners, one for those who've been around the block and one for athletes who need to keep up their energy levels. Plus, JugoFresh offers a la carte options and shots to give you a boost of energy. It's all natural and as organic as it can get. You may have to take a week off from the gym to keep up with the cleanse, but your inside will thank you for the drill. GET IT: $70-$85 for cleanses. 1935 West Ave. suite 102, Miami Beach.