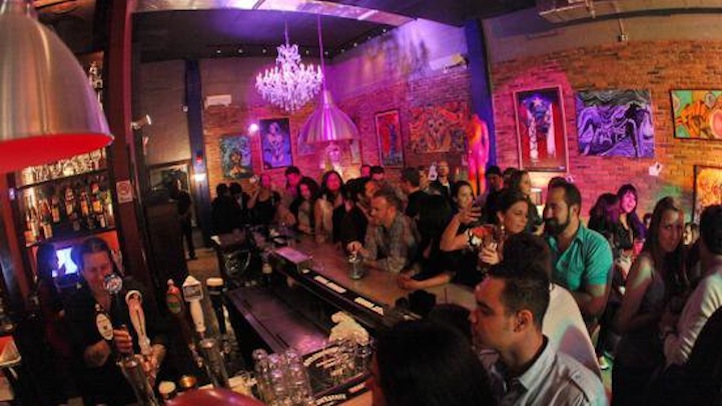 Wednesday parties in Miami are either the biggest and best locals have to offer or a totally lame excuse to go out drinking with your friends. The old school hip hop night at The Stage, called The Show is definitely the former. Biggie's voice, deep and inviting, would lure any music lover in to dance up a nostalgic storm.
The Stage, which only opened this past January, is part owned by Carlos Garcia. According to him, at his venue "every night of the week is a different experience." He's been there almost every week since May for The Show, it's hard to keep him away, "I just love coming here on Wednesdays," he said.
"My tape cassette box back from the late '80s, late '90s was split. On one side was my rock side, which was Led Zeppelin, Rolling Stones, The Doors. On the other side was Heavy D and the Boys, Luke with 2 Live Crew and Rob Base." Garcia said. A full enorsement of the night's sounds.
The Show is run by Johann Torres, an investor in the space and big fan of '90s hip hop. Promoting is all new to Johann Torres who works in the shipping business. Every other night of the week, the space, which opened with the purpose of providing live music, features performances. This is the only night when hip hop, funk, and soul rule, orchestrated from the DJ booth.
Torres is working on bringing in artists that were popular in the mid-nineties to play live at the space, he's thinking De La Soul. Until then, the DJs who control the music include Self Born, A Fly Guy and DJ Johnny Walker who also share a night at Love Hate Lounge on Sundays.
"I wanted to go back to what the mid-nineties were here, when I used to go to Fat Black Pussycat." It was one of the all time biggest and longest running Monday night parties, based at superclub Liquid on Miami Beach. "I wanted to redo that again, that vibe again. Back then, we were living it, we had that whole Tupac Biggie thing going on." He's managed to do it with The Show, helping Miamians revist those glory days of hip hop.
Check out The Show at The Stage (170 NE 38th Street) every Wednesday night.