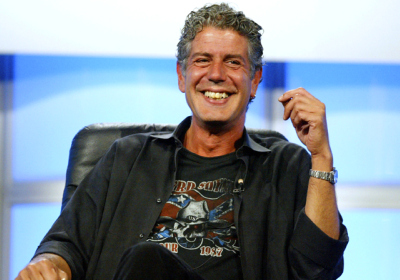 "Kitchen Confidential" author Anthony Bourdain may travel the globe noshing on everything from the world's best oysters to sheep testicles in Morocco, but don't expect him to whip up the best bites.
"It would be inaccurate to say that I was ever a great chef, it is something I need to remind people," said Bourdain during his reading at Lincoln Theatre last night. "In fact, none of my dearest friends in the world that I mention in the book would ever have hired me to work in their kitchens."
"The fact is, I've had a lot of meals, I've eaten in a lot of good restaurants -- I'm a jaded privileged foodie that I've always detested, so it's something I always have to apologize for," he laughed.
Now almost a decade later, the sarcastic vegan-hater continues to unveil the underbelly of the food world with his newest memoir "Medium Raw" in which he dishes on topics like Top Chef winners and losers and the changing culture of the restaurant business.
"Basically, chefs now feel empowered enough to serve their customers menus reflecting what they themselves believe to be good and what they themselves like to eat," he said. "That's a huge shift in cooking and in the restaurant industry"
And despite the fact he doesn't consider himself a master in the kitchen, the Travel Channel's famed "No Reservations" host -- who admitted last night he can't live without "salt, butter and pork" -- said he never considered stirring another pot.
"I've never had a plan B," said Bourdain. "Ever in my life."