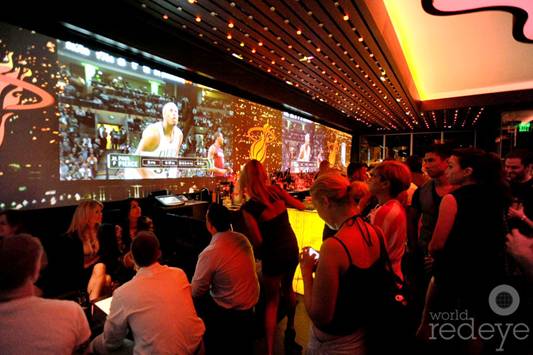 We have made it Miami Heat fans – Game 5 is here. Unless you have been living in a basement, you are very aware that there is a possibility that we might walk away with another championship trophy to display at the American Airlines Arena this evening.
Don't have tickets? No worries – we have found six fabulous establishments that will make up for the fact you aren't in the stands.
Haven 1237 Lincoln Road, Miami Beach
Michael Jordan watched Game 2 here – need we say more? Haven will host a Game 5 viewing party featuring a live stream on its high definition wrap-around walls and will be offering a special "Big Three" menu. It will include special cocktails including their Fever Grey Goose martini that is pear vodka, jalapeño, lychee, and prosecco. For noms, we suggest their Chicken Wings with homemade hot sauce by Executive Chef Todd Erickson or their Mexican "Hot" Chocolate with liquid nitrogen ice cream, cayenne pepper, coriander and cinnamon mix-ins. The best part: if LeBron, D-Wade and Bosh bring home the trophy, Stoli HOT vodka host a victory party immediately following the game featuring one-hour of complimentary Citrus Inferno cocktails, comprised of Stoli Hot vodka, fresh lime, simple, passion fruit and Mandarin Napoleon. To ensure you get through the door, RSVP to RSVP@havenlounge.com.
Duffy's Sports Grill 3969 Sunny Isle Boulevard, North Miami Beach
If you are looking for somewhere to watch the Heat game with hundreds of your closest friends, look no further than Duffy's in North Miami Beach. Literally hundreds of fans come dressed in their team gear and flood the indoor/outdoor venue. Guests enjoy drink specials from Grey Goose to Patron and 2 for 1 Happy Hour and beer bucket specials. While watching, guests have the opportunity to win free tickets (if there is a Game 6, of course) and special guests include Miami Heat Dancers and Xtreme Team, Burnie the mascot and in arena announcer Mike B. One tip: arrive early!
Tobacco Road 626 South Miami Ave, Miami
Tobacco Road is the oldest bar in Miami for a reason: you are guaranteed to have a great time. For anyone lucky enough to go to the game, they are encouraging you to park, pregame and then head over to the American Airlines Arena. For anyone without tickets in hand, you're still in luck. They will have the game on all of their TVs and drink specials that start at happy hour and last till the wee hours of the morning.
Shuckers Bar & Grill 1819 79th Street Causeway, North Bay Village
Shuckers might be a little off the beaten path, but it's a path you should definitely take. Located in North Bay Village, the bar and grill has a full bar and a menu that will knock your socks off with their fresh seafood and meat options. While it might be hard to keep your eyes off their breath taking ocean view, we think the Heat game on their 23 HD TVs might do the trick.

American Airline Arena 601 Biscayne Boulevard, Miami
If you check any ticket website this morning, you will see that a seat in the stands will cost you anywhere between $300 to $44,000. But don't let those outrageous prices keep you from heading to the AAA. Outside the arena, they will be playing the big event on their super-sized big screen. So grab your friends, family, some lawn chairs and a cooler of your favorite beverages to watch the big game with your fellow 305ers.

Fontainebleau 4441 Collins Avenue, Miami Beach
When the Dallas Mavericks won the title last year, just after they received the trophy, they handed it over to owner Mark Cuban and headed straight to the Fontainebleau. The famous Miami Beach hotel will have the game on at multiple locations, so if and when the dream team win this evening, immediately get in line at LIV to celebrate with the boys. But if you do plan on heading to the famous nightclub, dress to impress.