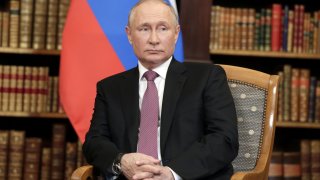 Russian President Vladimir Putin has led Russia for over 20 years.
The economy has been through highs and lows in those years.
The Kremlin faces challenges both in the near and medium term.
Love him or loathe him, there's no doubt that Russian President Vladimir Putin has been instrumental in keeping Russia firmly on the global geopolitical stage during his time in office.
Download our app for iOS or Android to get the latest forecasts on the hurricane season— and sign up for alerts.
Alternating as both prime minister and president of Russia since late 1999, Putin has been the figurehead of Russia's economy seeking to attract foreign direct investment, boost a variety of industries and to exploit Russia's natural resources, particularly the country's abundance of oil and gas.
Of course it's not all been plain sailing. Russia has been hit by economic misfortunes both of its own making —such as international sanctions placed on key sectors after its 2014 annexation of Crimea from Ukraine and its meddling in the 2016 U.S. election — and some it had no control over, such as the 2008 financial crash, 2014 oil price crash and most recently, the Covid-19 pandemic.
More than 20 years after Putin came to prominence, Russia — a country which spans Europe to Asia and has around 144 million inhabitants — is facing challenges that the Kremlin will have to tackle soon enough.
These range from the more pressing matter of living standards and the specter of inflation that could hit Russian consumers at a time of vulnerability, to longer-term issues such as Russia's transition away from its energy-dependent, export-oriented economy.
CNBC has taken a look at economic data from the Organisation for Economic Co-operation and Development that spans the two decades that Putin has been in power, looking at the country's growth rate, GDP per capita, employment picture and inflation story as well as household disposable income compared to its neighbors in the EU, the wider OECD (which includes 38 countries from around the world) and the U.S.
Russia's economic growth
Russia's economy has undoubtedly grown under Putin, although it took a deeper dive than others after the financial crisis of 2008, as this graph shows.
The recession that Russia entered after the oil price crash of 2014-2016 (when oil prices tumbled from around $114 a barrel to $25 in early 2016) is also evident, as is the pandemic-induced damage to GDP with Russia no more immune to lockdowns, industry shutdowns and slumping oil demand than the rest of the world. Saying that, its decline has not been as pronounced as that seen collectively in the EU or OECD.
This graph below shows Russia's GDP per capita, a core indicator of economic performance and commonly used as a broad measure of average living standards or economic wellbeing.
Inflation
Rising consumer prices have been a regular bugbear for Russia's economy and inflation has been a key focal point for Russia's central bank in recent years, particularly in the wake of the oil crash when the Russian ruble plummeted in value against the U.S. dollar, increasing inflationary pressures.
Currently, Russia's inflation rate stands at 7.4%, a figure that prompted the central bank to increase interest rates by 25 basis points to 6.75% in September. The bank's inflation target is 4%.
The central bank noted last month that while Russia's economy is "returning to a balanced growth path ... the contribution of persistent factors to inflation remains considerable." In this environment, the balance of risks for inflation is tilted to the upside, the bank said.
Household disposable incomes were heavily impacted by rampant inflation during the 2014-2016 oil crisis period but the latest available data shows that Russia has recovered when it comes to this indicator, with the annual growth rate in household disposable income, in 2019, standing at a very similar level to the U.S.
Employment
Russia performs well in terms of employment indicators, and in fact performs far better than its peers in the EU and OECD, with its employment rate above OECD countries' average and an unemployment rate below the OECD average.
"Flexible labour market legislation, weak unemployment insurance and the ongoing economic recovery reduce unemployment," the OECD said in a 2018 report. Yet Russia scores relatively poorly on job quality indicators, with earnings quality close to the bottom of OECD countries.
It also performs below the OECD average in the main indicators of inclusiveness with the employment gap higher for disadvantaged groups, such as mothers with children, young or older workers, workers with disabilities or non-Russian workers, compared to OECD countries.
— CNBC's Hadley Gamble moderates a panel with Russian President Vladimir Putin and the CEOs of BP, TotalEnergies, ExxonMobil and Daimler at Russian Energy Week. Watch live at 1 p.m. Moscow time/11 a.m. London time on Wednesday, Oct. 13.
Copyright CNBCs - CNBC