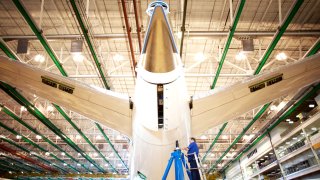 Deliveries of Boeing's 787 Dreamliner have been suspended for much of the past year as it addresses several manufacturing flaws.
The issues come as the aerospace giant is trying to regain its footing from the coronavirus pandemic and extended grounding of the 737 Max, which was lifted last November.
Boeing plans to ramp up 737 Max production to 31 a month, but said further increases would be paced by the the supply chain.
Boeing on Wednesday said flaws in its 787 Dreamliners would generate $1 billion in abnormal costs and that it cut production to about two of the planes a month as it struggles to address quality issues. Those problems led it to suspend deliveries for most of the past year.
The manufacturer wrote down $183 million of that amount in the third quarter.
Sales improved, however, thanks to higher aircraft sales and deliveries. Boeing said its revenue rose to $15.28 billion in the third quarter, up 8% from $14.14 billion a year ago. That was below the $16.3 billion analysts forecast. The company reported a $132 million net loss for the quarter though it was narrower than the $466 million it lost a year earlier. On an adjusted basis, Boeing lost 60 cents per share, more than the 20 cents analysts expected.
"Our commercial market is showing improved signs of recovery with vaccine distribution and border protocols beginning to open," CEO Dave Calhoun said in a staff note after results were released. "As demand returns, supply chain capacity and global trade will be key drivers of our industry and the global economy's recovery."
Boeing said worker availability in the supply chain "will be the critical watch item."
Boeing's operating cash flow improved to negative $262 million compared with $4.8 billion a year earlier.
Here's how the company performed compared with analysts' estimates complied by Refinitiv:
Adjusted results: A loss of 60 cents a share vs. an expected loss of 20 cents a share.
Revenue: $15.28 billion vs. $16.3 billion, expected.
Boeing first disclosed quality issues with seams on the fuselages of some of its 787s last year. The problems resulted in inspections that prompted Boeing to suspend deliveries of the planes to airline customers, depriving the company of cash.
Deliveries resumed briefly this year but were halted again in May for more inspections. Boeing has about 100 of the planes in inventory, analysts estimate. The company has repeatedly brought down the production rate for the jetliners. Over the summer, Boeing said it was producing fewer than five 787s a month.
"The company expects to continue at this rate until deliveries resume and then return to five per month over time," it said in a release.
In an interview with CNBC's "Squawk on the Street," Calhoun declined to give an estimate on when 787 deliveries to customers, which include American Airlines and United Airlines, will resume, saying it partly depends on the Federal Aviation Administration.
"The FAA continues to engage with Boeing as the company works to demonstrate the reliability of its proposed method for inspecting certain undelivered 787 airplanes," it said in a statement. "The FAA will not sign off on the inspections until our safety experts are satisfied."
The wide-body 787s are used mostly for long, international trips. Demand for those flights was hurt by the Covid pandemic but United, American and other carriers have reported a spike in bookings for trans-Atlantic trips as governments ease pandemic travel restrictions.
When asked whether airlines have enough planes for the travel rebound, Calhoun told CNBC, "Well, they do today.
"I think by the time we get into the second half of next year, I think everyone will will be working hard on those fleet plans," he said.
Boeing has been mired in back-to-back crises since the first of two deadly crashes of its 737 Max three years ago. While it grappled with a 20-month grounding of the planes, the coronavirus pandemic decimated travel and aircraft demand.
The company delivered 62 737s in the quarter, the most since the first quarter of 2019, Calhoun said. It is producing 19 Max planes a month, up from 16 in July. It stuck with a forecast to ramp up output to 31 a month in early 2022. Further production-rate increases will depend on the state of the supply chain, he said during the quarterly call.
Chinese regulators still haven't signed off on the Boeing Max, the biggest hurdle left in returning the planes fully to service. But Boeing said it expects to get Chinese regulators' approval by the end of the year and for deliveries to airlines in that country to resume in the first quarter of 2022. Test flights to recertify the plane in China began in August.
The company has about 370 Max planes in inventory and said that the "vast majority" have owners and that if its projections for China deliveries hold up, it will deliver most of them by the end of 2023.
Boeing's shares fell 1.5% to $206.61 on Wednesday. They're down 3.5% so far this year, compared with a 21% gain in the S&P 500.
Correction: Boeing said its third-quarter revenue rose to $15.28 billion, up 8% from $14.14 billion a year ago. An earlier version misstated the year-earlier figure.
Copyright CNBCs - CNBC