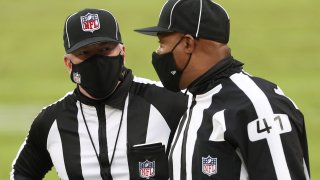 The coverage on this live blog has ended — but for up-to-the-minute coverage on the coronavirus, visit the live blog from CNBC's U.S. team.
The U.K. on Wednesday approved the Pfizer-BioNTech vaccine for emergency use, clearing the way for distribution to begin next week. Medical workers and older adults in extended-care homes are expected to be the first in line for the shots, mirroring a plan set out by the CDC on Tuesday for those in the U.S. would receive an approved vaccine first. The White House has been concerned about the pace of approvals from the FDA, summoning Chief Stephen Hahn for a meeting Tuesday.
Here are some of today's biggest developments:
The following data was compiled by Johns Hopkins University:
Global cases: More than 64.3 million  
Global deaths: At least 1.48 million
U.S. cases: More than 13.86 million
U.S. deaths: At least 272,552
Obama will take vaccine, might film to build confidence
Former President Barack Obama said that he will take a Covid-19 vaccine once one is available and may film it to build confidence about safety.
"I will be taking it and I may take it on TV or have it filmed so people know that I trust this science," he told SiriusXM's "The Joe Madison Show" during an interview. "What I don't trust is getting Covid."
Numerous polls find many Americans are skeptical about getting a Covid-19 vaccine, potentially jeopardizing U.S. vaccination efforts to control the pandemic.
The reluctance or refusal to get vaccinated has been a growing problem in the U.S. long before the pandemic started. Medical experts point to a long-debunked study published by British researchers in 1998 linking measles vaccines to autism in children.
During the interview, Obama also mentioned the Tuskegee study, in which Black men with syphilis were not offered treatment for decades after penicillin became available in the 1940s so that government researchers could study the long-term effects of the disease. 

—Berkeley Lovelace Jr.
NFL considering playoff training camps if Covid-19 cases continue to rise
The National Football League could implement training camp-like playoffs to finish the 2020 season if Covid-19 cases in the league continue to rise. The plan would require playoff teams to remain in-market, but sequestered at team hotels, league sources told CNBC.
The NFL has resisted establishing a full bubble-like environment, like the NBA, out of concern for players' and participants' mental health. League officials are leaning on data from August when, zero players tested positive for Covid-19 while in training camps, to bolster the playoff plan.
The NFL released its latest Covid-19 testing results on Wednesday, reporting 86 new cases between Nov. 22 and Nov. 28. The league said 156 players and 270 additional personnel have tested positive for Covid-19 since it started testing in August.
—Jabari Young
U.S. should be able to immunize 100 million people by end of February, Slaoui says
President Donald Trump's Covid-19 vaccine czar said the U.S. should be able to immunize 100 million Americans by the end of February.
Dr. Moncef Slaoui, who is leading the Trump administration's vaccine program Operation Warp Speed, said there is a chance the U.S. could immunize even more people if Johnson & Johnson's potential vaccine is authorized by then. Moderna's and Pfizer's vaccines are expected to be authorized by the Food and Drug Administration for emergency use sometime this month.
Slaoui's comments came a day after a Centers for Disease Control and Prevention panel voted 13-1 to prioritize the first doses of a coronavirus vaccine to health-care workers and long-term care facility residents. Initial doses will be limited as manufacturing ramps up, with top U.S. health officials predicting it will take months to immunize everyone who wants to be vaccinated against Covid-19 in the United States.
–Berkeley Lovelace Jr.
CDC director warns of 'most difficult' months ahead
The next few months of the Covid-19 pandemic will be among "the most difficult in the public health history of this nation," Dr. Robert Redfield, the director of the Centers for Disease Control and Prevention, said Wednesday.
Redfield, speaking at an event hosted by the U.S. Chamber of Commerce, said that about 90% of hospitals in the country are in "hot zones and the red zones." He added that 90% of long-term care facilities are in areas with a high level of spread.
"So we are at a very critical time right now about being able to maintain the resilience of our health-care system," Redfield said. "The reality is December and January and February are going to be rough times. I actually believe they're going to be the most difficult in the public health history of this nation, largely because of the stress that's going to be put on our health-care system."
—Will Feuer
AstraZeneca U.S. vaccine results likely to come in late January
AstraZeneca is likely to see results of its U.S. Covid-19 vaccine trial in late January, Operation Warp Speed chief advisor Dr. Moncef Slaoui said, according to a Reuters report.
The British drugmaker, which is developing the drug alongside Oxford University, published interim efficacy results from a UK trial in November, but U.S. trials were paused for several weeks after an adverse event in a participant.
"I still expect that somewhere in January maybe, more towards the second half of January, data will become available and potentially an emergency use authorization could be filed," Slaoui said.
—Sara Salinas
Rhode Island health network moves some Covid patients to field hospital
Rhode Island-based Lifespan has moved some of its coronavirus patients to a field hospital after it reached capacity at its traditional health facilities, according to CEO Dr. Timothy Babineau.
"We have plenty of ICU capacity. We have plenty of ventilator capacity. However, our regular med surge beds are full," Babineau said on CNBC's "Squawk on the Street." "Unfortunately, Rhode Island is headed in the wrong direction."
Hospitalizations in Rhode Island are at a record high, according to a CNBC analysis of data from the COVID Tracking Project, which is run by The Atlantic magazine. 
Babineau also raised concerns about the wellbeing of health-care workers as the pandemic drags on: "One of our biggest concerns, one of our biggest priorities, is adequate staffing and making sure that our staff are protected, that they have what they need."
—Kevin Stankiewicz
New York Gov. Cuomo expects first delivery of Covid-19 vaccine by Dec. 15
New York Gov. Andrew Cuomo warned the latest coronavirus spike could last through January. But as the state does what it can to prepare and deal with rising cases, vaccines are on their way.
Cuomo said he expects New York to get its first delivery of Covid-19 vaccine doses by Dec. 15 — with enough to innoculate 170,000 people.
In New York, about 1 of every 134 residents tested positive for Covid-19 in November, which is about triple that of the month before, NBC New York reports.
—Chris Eudaily
Even with vaccines approved, WHO says more work is ahead with production, distribution and pricing
Developing and approving a vaccine is like arriving at base camp on Mount Everest, Dr. Mike Ryan, executive director of the WHO's health emergencies program, said.
"We still have to climb the mountain," he said during a live-streamed Q&A session from the agency's headquarters.
His comments come as the U.K. became the first country to authorize the vaccine from Pfizer and BioNTech for emergency use, paving the way to begin inoculating its population as early as next week. However, as vaccines are authorized, countries will face challenges trying to safely deliver them to nearly 8 billion people across the globe, Ryan warned.
"We need to develop more vaccines," Ryan said. "We need to increase production. We need to pull the price down. We'd love a one-dose vaccine, because all the vaccines so far are two doses."
—Noah Higgins-Dunn
Senate leaders divided on unemployment benefits
Senate Majority Leader Mitch McConnell, R-Ky., and Minority Leader Chuck Schumer, D-NY, are at odds over the scope of unemployment relief in any upcoming Covid-19 stimulus package.
Their differences may complicate a compromise, with only weeks to go before jobless benefits are scheduled to expire for millions of workers without additional legislative action.
McConnell's plan would extend benefits for self-employed, gig and other workers by up to three months, until the end of March. The GOP leader wouldn't offer workers a weekly enhancement to benefits.
Schumer's proposal would extend the CARES Act's $600-a-week supplement through October 2021 for all workers, and some would be eligible for it through early January 2022. The subsidy would be retroactive to Sep. 5 this year. The plan, co-sponsored by four other Democratic senators, would also extend the duration of benefits to a greater extent than McConnell's.
—Greg Iacurci
Gottlieb expects 'rationing type of environment' for Covid vaccine into the spring
Supply of coronavirus vaccine doses will be constrained for the next few months, even after hospital workers and nursing home residents receive shots, Dr. Scott Gottlieb said on "Squawk Box."
"We're going to be in this sort of rationing type of environment for this vaccine probably well into the spring," the former Food and Drug Administration commissioner said. He called vaccine availability the "biggest variable" in the Covid-19 pandemic response.
The U.S. regulatory agency has yet to approve a vaccine. But even when additional groups of Americans are cleared to receive the vaccine, beyond the most at-risk people, "we're going to be limited with those tranches," he said.
—Kevin Stankiewicz
Disclosure: Scott Gottlieb is a CNBC contributor and is a member of the boards of Pfizer, genetic testing start-up Tempus and biotech company Illumina. Gottlieb also serves as co-chair of Norwegian Cruise Line Holdings′ and Royal Caribbean's "Healthy Sail Panel." 
CDC issues shorter quarantine guidelines
The Centers for Disease Control and Prevention announced shortened alternatives to its recommended quarantine guidelines for people who were exposed to someone with Covid-19.
Dr. Henry Walke, the agency's Covid incident manager, said the CDC still recommends a 14-day quarantine "as the best way to reduce the risk of spreading Covid-19." He said, however, that the agency has identified "two acceptable alternatives."
The quarantine can end after 10 days if the person has not developed any symptoms and can end after just seven days if the asymptomatic person also tests negative for the virus, Walke said. He added that the sample for the negative test should be collected within 48 hours of the final day of quarantine.
In addition to the adjusted quarantine recommendations, Walke also said the CDC is recommending against travel for the winter holidays amid the resurging outbreak.
—Will Feuer
One third of CFOs say layoffs are coming despite vaccine progress
The Covid-19 second wave is weighing on chief financial officers in the U.S. and Europe, and one-third of U.S.-based firms indicated that more layoffs are coming, according to the Q4 Global CFO Council Survey.

The results suggest there will be more pain to come in the U.S. labor market, with 32% of U.S. CFOs saying headcount will decrease. Covid-19 does remain the biggest external risk factor cited by U.S.-based CFOs (68%), but more are planning on the promise of a vaccine (58%) than around the current surge in cases (32%).

In the area of corporate spending, only 5% of U.S. CFOs said capital spending will decrease over the next 12 months, while an equal amount (47%) of respondents said spending will either increase or remain the same.
The CNBC Global CFO Council represents some of the largest public and private companies in the world, collectively managing more than $5 trillion in market value across a wide variety of sectors. The Q4 survey was conducted from Nov. 13-Nov. 29 among 43 of the Council members.
—Lori Ioannou
Mnuchin says he has met with Yellen and is 'cooperating with the transition'
Treasury Secretary Steven Mnuchin said he has had a discussion with his designated successor.
During a contentious hearing before the House Financial Services Committee on coronavirus relief funds, Mnuchin said he has spoken with former Federal Reserve chair Janet Yellen, whom President-elect Joe Biden has said he will nominate as the new head of Treasury.
"We are cooperating with the transition. I had a very good working relationship with her when she was the Fed chair," Mnuchin said. Yellen led the central bank from 2014-18, when she was replaced by Jerome Powell, who sat next to Mnuchin during the hearing.
One of the topics to come up was Mnuchin's move to end several Fed lending programs. He said Yellen did not offer an opinion on the decision.
—Jeff Cox
42% of people are falling behind as pandemic widens the wealth gap
A new report on financial wellbeing shows a widening divide between the haves and have-nots months into the pandemic.
More than half, or 55%, of Americans rated their financial security positively, even up slightly from last year before the Covid-19 outbreak, while 42% said their level of financial security was the same or worse since the crisis caused unemployment to spike, according to a recent Country Financial Security Index.
While Americans are largely staying home, many adults are spending less and saving more as they reap the benefits of record-low interest rates and stock market highs. Yet others are struggling to find work and pay rent while facing food insecurity as the pandemic drags on.
There are some positive financial behaviors starting to take hold nearly across the board, however, according to Troy Frerichs, a vice president of investment services at Country Financial.
"People are cutting back on discretionary spending and paying down debt," he said. "There seem to be some good financial habits taking place."
"Hopefully these habits will stick long after the pandemic," he added.
—Jessica Dickler
Norwegian extends suspension of most cruises through March
Norwegian Cruise Line Holdings announced it is again extending its suspension of sailing for most of its scheduled voyages, this time through March.
The company, which had previously suspended its cruising until Dec. 31, said all of its cruises will be suspended through Feb. 28, with most voyages suspended through March 31.
It's among the longest suspensions of cruising by any of the major publicly traded cruise operators announced so far. The stock traded less than 1% lower in early trading Wednesday. Shares of the company are up over 200% since they bottomed out at $7.03 per share on March 18, after the company announced its initial suspension of voyages. The stock, however, is still down over 60% since Jan. 1.
—Will Feuer
Texas Gov. Abbott says roughly 10% of state will be vaccinated in December
Texas Gov. Greg Abbott told CNBC's "Squawk Box" that the state will be able to vaccinate about 10% of its population — roughly 2.9 million people — "this month, next month, the month after that."
While the state won't require people to be vaccinated against Covid-19, Abbott said he believes there's enough demand to begin building so-called herd immunity to prompt a "quicker acceleration of reopening businesses" and "getting back to normalization."
"We will be very quickly getting to the stage where we are reducing hospitalizations, we are reducing fatalities, we are reducing the number of cases in our state," Abbott said.
—Noah Higgins-Dunn
Lyft expects revenue growth to come in at low end, says rides down 50%
Lyft shares dipped 3% after the rideshare company said it expects its revenue to come in at the lower end of its fourth-quarter guidance range, as Covid-19 cases continue to rise.
"Based on these recent trends and the reintroduction of restrictive measures designed to curtail the spread of COVID-19 in select cities, Lyft now expects sequential revenue growth will be at the lower end of the 11-15% range in the fourth quarter of 2020," the company reported Wednesday in an 8-K filing.
Lyft's rideshare business dropped about 50% year over year in November, which it attributed to rising coronavirus cases, according to the filing.
Shares of its competitor, Uber, were also down slightly.
Investors have viewed ridesharing companies primarily as travel stocks, putting it among the hardest hit segments due to the virus. Lyft's stock was down nearly 8% year to date.
—Jessica Bursztynsky
Covid cases and deaths in nursing homes are surging again
Nursing homes and other long-term care facilities across the U.S. are once again seeing a surge in coronavirus cases and deaths.
Infections at long-term care facilities reached a new weekly high in late November, data from the Covid Tracking Project shows. There were more than 46,000 infections recorded at those facilities in what was the worst week in six months. For the week ending Nov. 26, deaths topped 3,000 — the highest weekly death toll since June, according to the Covid Tracking Project.
There have been improvements in the availability of testing and personal protective equipment for nursing homes since earlier in the pandemic when they were the epicenter of the outbreak. However, there are still structural issues that make the facilities and their residents vulnerable.
"The problem is, it only takes one. It takes one staff member to bring the virus into the building, and it's just trouble," said Jeff Fritzen, who runs Gold Crest Retirement Center in Adams, Nebraska.
—Kevin Stankiewicz
Roche granted U.S. emergency use authorization for its Covid-19 antibody test
Roche has received emergency use authorization (EUA) from the U.S. Food and Drug Administration for a new test that measures coronavirus antibodies.
The Swiss diagnostics and pharmaceutical giant said the test, called "Elecsys Anti-SARS-CoV-2 S," specifically detects antibodies against the virus' spike protein within blood samples.
Roche appeared to suggest the test could be one of the tools used to gauge individuals' antibody responses to coronavirus vaccines that could soon become widely available.
It said in a statement that "many current candidate vaccines aim to induce an antibody response against the coronavirus spike protein. Tests that quantify antibodies to the spike protein could be used to measure the level of that response and track that measurement over time."
—Holly Ellyatt
UK authorizes Pfizer-BioNTech vaccine for emergency use
The U.K. on Wednesday authorized the Pfizer-BioNTech vaccine for emergency use, with a vaccination program expected to begin next week.
The U.K. government is the first in the world to formally approve the Pfizer-BioNTech shot for widespread use, and the move means Britain will be one of the first countries to begin vaccinating its population. Elderly people in care homes and medical workers are expected to be the first in line to received the vaccine.
"The government has today accepted the recommendation from the independent Medicines and Healthcare products Regulatory Agency (MHRA) to approve Pfizer-BioNTech's Covid-19 vaccine for use," the government said Wednesday.
Pfizer's Chairman and CEO, Albert Bourla, said the authorization was a "historic moment."
The U.K. pre-ordered 40 million doses of the vaccine, enough to vaccinate 20 million people with a two-dose regimen.
—Holly Ellyatt
Read CNBC's previous live coverage here:
Coronavirus updates: U.S. vaccine chief sets immunization timeline as hospitals prep for distribution
Copyright CNBCs - CNBC