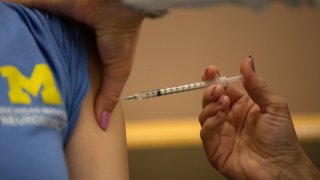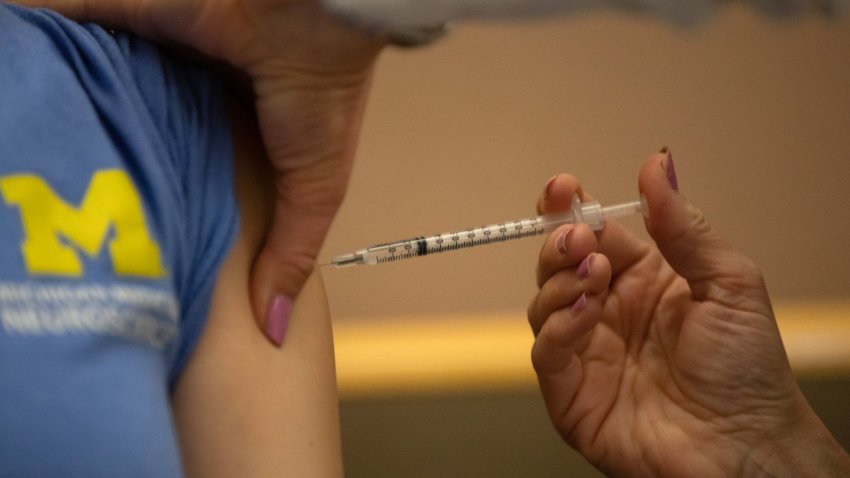 The coverage on this live blog has ended.
President Joe Biden, in his first primetime address Thursday night, said he will direct states to make all adults eligible for a Covid-19 vaccine by May 1. The directive adds some uniformity to what has been a largely piecemeal vaccine rollout in which states have determined who is eligible for the shots. Biden also on Thursday signed the $1.9 trillion stimulus package, triggering crucial aid for governments and businesses and clearing the path for direct payments to hit Americans' bank accounts as soon as this weekend.
Here are the biggest developments Friday:
Stay informed about local news and weather during the hurricane season. Get the NBC 6 South Florida app for iOS or Android and pick your alerts.
The U.S. is recording at least 53,700 new Covid-19 cases and at least 1,3 virus-related deaths each day, based on a seven-day average calculated by CNBC using Johns Hopkins University data.
The following data was compiled by Johns Hopkins University:
Global cases: More than 118.86 million
Global deaths: At least 2.63 million
U.S. cases: More than 29.32 million
U.S. deaths: At least 531,912
University of Kansas withdraws from conference tournament as March Madness looms
The University of Kansas has withdrawn from the Big 12 men's basketball tournament after a player on the team tested positive for Covid-19, the Kansas basketball team wrote in a statement. The team still plans to participate in the NCAA March Madness tournament set to start next week.
Kansas now joins Duke as the latest of two major programs to concede their hopes for a conference championship due to Covid-19.
"Obviously we are disappointed and our players are disappointed that they can't continue to compete for the Big 12 championship," head coach Bill Self said. "While we have been fortunate to avoid this throughout the season, there are daily risks with this virus that everybody participating is trying to avoid. We have followed the daily testing and additional protocols that have been setup for us, unfortunately we caught a bad break at the wrong time."
—Christian Nunley
U.S. tops 100 million vaccine doses administered
The United States on Friday topped 100 million Covid-19 vaccine doses administered, according to data from the Centers for Disease Control and Prevention.
About 35 million people have been fully vaccinated, accounting for 13.5% of the adult U.S. population, according to the CDC. Over 65.9 million people have received at least one shot of the two-dose regimens, the CDC said.
Of those 65 and older, more than 32% have been fully vaccinated and over 61% have received at least one dose, according to the CDC. That's notable because about 80% of deaths caused by Covid-19 in the U.S. have been among people 65 and older.
—Will Feuer
Michigan expanding vaccine eligibility to nearly everyone beginning April 5
Michigan will open its vaccine eligibility to all residents age 16 and older beginning April 5, though people with underlying health conditions in that age group will be eligible for a shot starting March 22, according to a statement from the state's department of health.
The state will also allow anyone age 50 and older to get a shot beginning March 22, the statement said. Michigan opened its vaccine eligibility to people age 50 and older with underlying health conditions or disabilities, as well as caregiver family members who care for children with special health care needs, on Monday.
"Nearly one million Michiganders of all races have already been safely vaccinated. I urge all eligible Michiganders to get one of the three COVID-19 vaccines," Gov. Gretchen Whitmer said in a statement.
—Noah Higgins-Dunn
WHO investigating blood clots in people who got AstraZeneca vaccine
The World Health Organization said it's reviewing recent reports of blood clots in some people who received the AstraZeneca Covid-19 vaccine that has prompted a few countries to halt rollout of the shots.
As of Wednesday, around 5 million people in Europe had received the Oxford-AstraZeneca vaccine. Of this figure, 30 so-called thromboembolic events have been reported in recipients. Those are blood clots that form in blood vessels and block blood flow.
There's still no evidence that the vaccine has caused the blood clots, WHO officials said.
"The adverse events which are reported after vaccination have to be seen in the context of events which occur naturally in the population," Dr. Soumya Swaminathan, WHO's chief scientist, said. "Just because it's reported following a vaccination doesn't mean that it's because of the vaccination. It could be completely unrelated."
—Will Feuer
Dentists, veterinarians and med students authorized to administer vaccines
The Biden administration will increase the number of vaccinators in the U.S. as part of its "war-time" effort to get the nation closer to normal by mid-summer.
Dentists, EMTs, midwives, optometrists, paramedics, physician assistants, podiatrists, respiratory therapists and veterinarians can start to administer Covid-19 vaccines nationwide, according to a statement from the Department of Health and Human Services.
The department also authorized "medical students, nursing students, and other health care students in the professions listed under the PREP Act with proper training and professional supervision to serve as vaccinators," the statement said.
—Noah Higgins-Dunn
WHO authorizes J&J vaccine for international use
The World Health Organization announced that it has authorized Johnson & Johnson's Covid-19 vaccine for emergency use in all countries, paving the way for the shots to be delivered to some of the world's poorest nations through COVAX.
The move comes just a day after the European Union's drug regulator authorized the doses. According to a WHO statement, J&J's vaccine will be the first single-shot dose regimen listed by the international health agency.
WHO Director-General Dr. Tedros Adhanom Ghebreyesus said in a statement that he urges all governments and companies "to use all solutions at their disposal to ramp up production so that these tools become truly global public goods."
—Noah Higgins-Dunn
Gottlieb says people will be gathering well before Biden's July 4 target
President Joe Biden's goal for Americans to safely gather in small groups for the Fourth of July is likely out of step with how people will actually behave as Covid vaccinations are rolled out, Dr. Scott Gottlieb told CNBC.
"People are going to be out this summer and they're going to be out well before July," the former FDA commissioner said on "Squawk Box."
"[When] people feel the risk declining because they've been vaccinated, because they see infection levels going down in many parts of the country, they're going to be willing to take more risk because they sense that their vulnerability is declining. And you know what? They're right," Gottlieb said.
Biden laid out the goal in a Thursday primetime address to the nation.
"I think we should be giving public health advice that is in line with where people are," Gottlieb said.
—Kevin Stankiewicz
Disclosure: Scott Gottlieb is a CNBC contributor and is a member of the boards of Pfizer, genetic testing start-up Tempus, health-care tech company Aetion and biotech company Illumina. He also serves as co-chair of Norwegian Cruise Line Holdings′ and Royal Caribbean's "Healthy Sail Panel."
Germany declares a 'third wave' has begun; Italy set for another lockdown
Germany's public health agency warned that a third wave of coronavirus infections has already begun, reports CNBC's Sam Meredith.
The country has started to gradually relax lockdown restrictions, and German Chancellor Angela Merkel had previously warned the country could be caught in a third wave of infections if public health measures were lifted too quickly.
Meanwhile, Italian Prime Minister Mario Draghi is reportedly in talks with regional governments and local authorities to impose tougher health measures from March 15 through to April 6
Italy's move is expected to be signed into law on Friday, just over a year after it became the first country to impose nationwide lockdown measures.
—Melodie Warner 
Fast-food chains betting drive-thru ordering will remain popular
As Covid vaccine distribution ramps up across the United States, the popularity of drive-thru ordering appears to have staying power, although industry experts predict that it will moderate some. In response, fast-food chains are upgrading their drive-thru lanes and adding more capacity in their kitchens.
Many Arby's locations, for example, now operate with two sets of workers assembling orders in the kitchens to keep up with the flow.
"And we'll continue to upgrade those in our restaurants certainly where there's volume today but also for the future," Arby's Chief Operating Officer John Kelly said.
—Amelia Lucas
How the stock market evolved in the year since Covid hit
A year after the Covid pandemic shut down the economy, stocks have gained 79% from the lows and the market is expected to continue to rally.
There's a new tension in the market, as investors put more funds into the value and cyclical stocks that are expected to do well in an economic rebound. Therefore, tech will not be in the driver's seat, and the sector could advance but will not likely lead as it has in the past.
The market has changed, after its abrupt drop and recovery. There is a new cohort of retail investors who are expected to put more money into stocks this year than corporations.
Investors will also be faced with a more volatile economy, which has been recovering unevenly. A new fiscal stimulus package should help propel growth this year, with economists expecting gross domestic product to grow by about 6%.
—Patti Domm
AstraZeneca says 'no evidence' of blood clot-related issues in vaccine recipients
Pharmaceutical giant AstraZeneca has said there is "no evidence" of blood clot-related health issues in recipients of the coronavirus vaccine it developed alongside the University of Oxford.
Several countries in Europe and Asia have temporarily suspended the use of the Oxford-AstraZeneca vaccine following reports of blood clots in some vaccinated people. Many others, however, have defended their use of the shot and said they will continue trying to inoculate as many adults as possible.
"An analysis of our safety data of more than 10 million records has shown no evidence of an increased risk of pulmonary embolism or deep vein thrombosis in any defined age group, gender, batch or in any particular country with COVID-19 Vaccine AstraZeneca," a spokesperson for AstraZeneca said.
"In fact, the observed number of these types of events are significantly lower in those vaccinated than what would be expected among the general population."
—Sam Meredith
Covid 'long haulers' may also face lasting money woes
Covid survivors who battle ongoing symptoms can face a big, long-lasting financial hit as well.
In addition to dealing with the health care costs involved in their search for a cure, these 'long haulers,' as they're called, may also be unable to work.
As many as 30% of people who are infected with Covid end up with symptoms that persist for months. The National Institutes of Health last month launched the first phase of a research initiative to explore why some Covid patients become long haulers.
—Sarah O'Brien
A year without student loan payments
It's been a year since the U.S. Department of Education allowed tens of millions of federal student loan borrowers to press the pause button on their bills because of the financial damage wrought by the coronavirus pandemic.
Around 90% of eligible borrowers accepted that offer, according to data analyzed by higher education expert Mark Kantrowitz.
As a result, life without the monthly bills has become the new normal. Borrowers say the break allowed them to get married, pay down credit card and prepare for their futures.
—Annie Nova
July 4th could be a 'turning point' in the U.S.'s fight against Covid
July 4th could be a "turning point" in the country's fight against Covid-19, Dr. Kavita Patel told "The News with Shepard Smith" on Thursday, CNBC's Emily DeCiccio reports.
Patel's comments align with President Joe Biden's goal to achieve some level of normalcy by the holiday, but she clarified that booster shots or annual vaccinations against the virus are likely to be needed even after we've achieved herd immunity.
—Sara Salinas
The EU says AstraZeneca isn't doing enough to meet its delivery targets
There are fresh supply issues between the European Union and AstraZeneca.
The EU has asked the pharmaceutical firm to do more to respect its contract with the bloc, as concerns grow that AstraZeneca will miss delivery targets this quarter.
It is not the first time the EU and the drugs giant have been at odds with each other. AstraZeneca had initially offered to distribute roughly 100 million doses of its Covid-19 jab before the end of March. However, the firm had to renegotiate that amount on the back of production issues to just 40 million.
The European Commission, the institution negotiating the vaccine contracts on behalf of the 27 member states, is now concerned that even this reduced amount will not be met.
Meanwhile, more countries have suspended the use of the AstraZeneca shot following reports of blood clotting. Here's everything we know about the situation.
—Silvia Amaro
ICYMI: Northwell Health donates the vaccine card and vial from the country's first Covid vaccination to the Smithsonian
New York-based Northwell Health is donating the vaccine card and vial used to vaccinate Sandra Lindsay, the first person in the U.S. to receive a Covid-19 vaccination, to the Smithsonian's National Museum of American History.
Lindsay was vaccinated on Dec. 14, 2020 at the Long Island Jewish Medical Center, where she is the director of critical care services. Her employee ID badge and the scrubs she wore on that day will also be donated as part of the collection.
"Having lived through the devastation and suffering created by the virus, I knew I wanted to be part of the solution to put an end to COVID-19," Lindsay said in a statement. "I hope that when people visit the museum and see all these items that they stop to honor the lives of people who did not make it and remember the loved ones they left behind. I hope it will inspire some discussion and education for future generations."
—Sara Salinas
Tech-savvy volunteers help at-risk Americans book vaccine appointments
Some tech-savvy volunteers are helping at-risk Americans book vaccine appointments, reports Contessa Brewer for "The News with Shepard Smith."
—Melodie Warner 
Goldman Sachs wants employees back in the office by summer
Goldman Sachs is aiming to have its thousands of global employees back in the office by the summer, Reuters reported, citing comments from an internal town hall.
The investment bank has already begun bringing employees back in India and the U.K., and hopes the accelerating vaccine rollout in the U.S. will see New York-based employees return in time to greet an incoming class of analysts and interns, according to the report.
"Our people do their best when they forge close bonds with their colleagues," CEO David Solomon said at the internal meeting, according to a transcript seen by Reuters. "We found the best way is to work together in person on a regular basis."
—Sara Salinas
Read CNBC's previous live coverage here:
Covid updates: Biden expanding vaccine eligibility, clearing way for small gatherings on July 4
Copyright CNBCs - CNBC