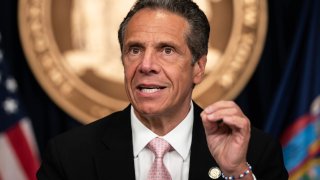 The coverage on this live blog has ended — for up-to-the-minute coverage on the coronavirus, visit CNBC's latest live blog.
The United States is averaging more than 2,600 deaths each day, according to data from Johns Hopkins University. December was the most deadly and infectious month of the pandemic for the nation, yet U.S. air travel hit its highest level since mid-March on Sunday with more than 1.3 million people passing through airport security checkpoints. Infectious disease expert Dr. Anthony Fauci on Sunday said the pandemic could likely get worse in the next couple of weeks as the U.S. deals with the delayed impact of post-Christmas holiday travel.
Here are some of the biggest headlines Thursday:
The U.S. is recording at least 213,437 new Covid-19 cases and at least 2,637 virus-related deaths each day, based on a seven-day average calculated by CNBC using Johns Hopkins University data.
The following data was compiled by Johns Hopkins University:
Global cases: More than 85.49 million 
Global deaths: At least 1.84 million
U.S. cases: More than 20.73 million
U.S. deaths: At least 352,620
Dallas flights delayed for a second time in a week after air traffic controller tests positive for Covid
The Federal Aviation Administration briefly halted departures at Dallas-Fort Worth International Airport on Monday to clean a facility after an air traffic controller tested positive for Covid-19.
The FAA routinely shuts certain facilities to clean if staff test positive. DFW, the busiest hub for American Airlines, was experiencing flight delays of up to an hour the FAA said.
Last week, a mix of bad weather and a closure for a high-altitude traffic management facility delayed flights at DFW and Dallas Love Field.
The FAA said it has reduced the time its facilities are closed for cleaning to as little as an hour from as much as eight hours several months ago.
— Leslie Josephs
Prosecutor says pharmacist accused of intentionally spoiling vaccine doses 'formed this belief they were unsafe'
The Wisconsin pharmacists who police say admitted to intentionally leaving out 57 vials of the Moderna vaccine, enough to innoculate more than 500 people, believed they were unsafe and would alter people's DNA, the Associated Press reported, citing court documents.
Steven Brandenburg, 46, who was a pharmacist at Advocate Aurora Health, was arrested last week.
Brandenburg, according to court documents, told investigators that he intentionally left out the vaccine vials to spoil because he believed the shot would change people's DNA, the AP reported.
Ozaukee County District Attorney Adam Gerol said Brandenburg is involved in recent divorce proceedings with his wife of eight years.
—Chris Eudaily
U.S. stocks begin 2021 with a sell-off
U.S. stocks dropped on the first trading day of 2021 amid concerns about global coronavirus cases and the Georgia runoff elections, reports CNBC's Fred Imbert.
The Dow Jones Industrial Average closed 382.59 points lower, or 1.3%, at 30,223.89. At one point, the Dow was down more than 700 points. The S&P 500 dipped 1.5% to 3,700.65 and the Nasdaq Composite also slid 1.5%, ending the day at 12,698.45.
Both the Dow and S&P 500 hit record highs at the open before turning lower.
—Melodie Warner 
New York confirms state's first case of new Covid strain initially found in UK
Gov. Andrew Cuomo confirmed New York's first case of a new, more contagious variant of Covid that was initially discovered in the United Kingdom, CNBC's Noah Higgins-Dunn reports.
The strain, which has also been found in California, Florida and Colorado, is thought to be more transmissible but doesn't appear to make people more ill or increase the risk of death from Covid-19, experts have said.
—Melodie Warner 
British PM Johnson imposes national lockdown on England
England is adopting a national lockdown that British Prime Minister Boris Johnson hopes will be tough enough to contain a new, highly contagious variant of Covid-19, reports CNBC's Vicky McKeever and Noah Higgins-Dunn.
Johnson announced people can only leave their homes to shop for essentials, to work if they can't from home, exercise, go to the doctor's and escape domestic abuse. Primary schools, secondary schools and colleges will also move to remote learning Tuesday, except in rare cases, he said.
"I completely understand the inconvenience and distress this change will cause millions of people and parents up and down the country," Johnson said. "The problem isn't that schools are unsafe for children ... the problem is that schools may act as vectors of transmission, causing the virus to spread between households."
—Melodie Warner 
Colorado governor hopes to have people at least 70 years old vaccinated within 6 weeks
Gov. Jared Polis told CNBC the state hopes to have residents who are 70 years of age and older vaccinated against Covid within six weeks. In an interview on "Power Lunch," the Democrat cautioned that the timeline could change depending on available vaccine doses.
Polis announced late last month that Colorado residents 70 and older were being moved into the state's second priority group for the vaccine. People in that age category accounted for 78% of the state's deaths from Covid-19, according to the governor's office.
"We expect we'll be able to get through our age 70 and up population in about four to six weeks, given the supplies that we think we're going to get, but it all depends on the reliability of that supply, and it has been a little bit elusive to this point, " Polis said. "There have been weeks where we've got 20% less, there have been unexpected shipments that didn't match with what we expected," he added.
—Kevin Stankiewicz

Airlines ask Trump administration to replace international travel bans with Covid testing
The U.S. airline industry is again asking the Trump administration to consider requiring negative Covid-19 tests from passengers traveling to the U.S., instead of broad travel bans.
Airlines for America, a trade group that represents most U.S. airlines including international giants American, United and Delta, expressed support for a Centers for Disease Control and Prevention proposal to implement testing requirements for U.S.-bound travelers.
"A4A also urges the Administration to move ahead with recommendations to rescind current entry restrictions on travelers from Europe, the United Kingdom and Brazil as soon as possible," wrote the trade group in a letter Monday to Vice President Mike Pence, which was reported earlier by Reuters. "These entry restrictions should be removed concurrently with the testing program, which will provide yet another layer of safety in the travel journey."
The Trump administration in March banned most non-U.S. citizens that have been in Europe from visiting the U.S.
Airlines last month started requiring customers to provide proof that they recently tested negative for Covid before boarding flights to the U.S. from the U.K. after a highly contagious strain of the virus was detected there, though it has since been found in the United States.
—Leslie Josephs
Some states issue $300 unemployment boost
Some states have begun paying workers a $300-a-week boost in unemployment benefits, while others signaled it may take a few more weeks or haven't provided a concrete timeline.
Arizona, California, New York and Rhode Island have either started or will begin disbursing the funds this week, according to state labor officials. Connecticut and Washington state expect to pay the subsidy around mid-January. New Jersey will soon start, after completing user testing, an official said.
The weekly subsidy, which lasts until the middle of March, is provided by the $900 billion Covid relief package President Donald Trump signed recently.
—Greg Iacurci
Covid relief bill extends a bundle of tax breaks
Legislators gave taxpayers another chance to nab a package of tax deductions and credits that were set to expire at the end of 2020.
The 5,593-page Covid relief act resurrects a bundle of breaks, known as "tax extenders."
In all, some 33 provisions would have sunset at the end of last year, including tax breaks on racehorses and write-offs for mortgage insurance.
The pandemic relief legislation made some of these deductions and credits permanent, while others have been extended through 2025.
Tax breaks that will continue to be available to individuals include a package of green tax credits, an exclusion of up to $5,250 for employers' payments toward workers' student loans, and an expansion of the lifetime learning credit for families with college students.
—Darla Mercado
New York governor to propose law making it a crime to skip vaccine line
New York Gov. Andrew Cuomo said he plans to propose a law that would make it a crime to sell or administer coronavirus vaccine shots to people who are trying to skip ahead in line.
Providers in New York can already lose their license if they fraudulently administer vaccines, though the law would add criminal penalties if approved by the state legislature, he said. So far, health-care workers and people living in nursing homes and assisted living facilities are eligible for Covid-19 vaccines.
"If there's any fraud in the distribution — you're letting people get ahead of other people, or friends or family, or they're selling the vaccine — you'll lose your license, but I do believe it should be criminal and I'm going to propose a law to that effect," Cuomo said at a press briefing.
The Democratic governor also pushed for the state's hospitals to administer the shots faster, saying they could face fines up to $100,000 if they don't administer their allocated doses by the end of this week.
—Noah Higgins-Dunn
Retail trade group doesn't see economic activity rebounding to pre-pandemic levels until late 2021
The National Retail Federation said Monday that overall economic activity is not expected to return to pre-pandemic levels until late 2021, and employment to pre-pandemic levels until well into 2022 or possibly 2023, as the retail industry keeps reeling from the effects of the Covid crisis.
While retail sales for the first 11 months of 2020 — excluding automobile dealers, gasoline stations and restaurants — were up 6.6% year over year, that spending is being distributed highly unevenly, creating a scenario of winners and losers in retail, NRF said. The gap will likely keep widening in the new year.
"As we closed out 2020, it was an end to a whirlwind year whose challenging economic environment will almost certainly continue in 2021," NRF Chief Economist Jack Kleinhenz said in a statement. "The coming year might be just as eventful as the economic recovery faces many uncertainties. Recoveries do not proceed in a straight line and the prospects for volatility over the next few months are high."
Kleinhenz added, however, that the retail trade group expects U.S. retail sales to see a boost from the new stimulus. The Trump administration began sending stimulus payments of up to $600 to millions of Americans in late December, as part of the recently passed Covid relief bill. The bill also extended $300 weekly checks for the unemployed for almost three months.
"Consumers responded quickly to last spring's stimulus checks, and distribution of the new checks will come at a critical time that will help carry 2020's momentum into 2021," Kleinhenz said.
The question remains, though, which retailers will see the biggest boost from the checks. NRF has forecast retail sales growth during the holiday season to range between 3.6% and 5.2%. It said final results for the season will be released after the Census Bureau releases December's sales numbers on Jan. 15.
—Lauren Thomas
Moderna increases minimum 2021 vaccine production to 600 million doses
Moderna is upping the minimum number of doses it expects to make this year by 20% to 600 million, the company said in a statement.
The Massachusetts-based company said it's working to produce up to 1 billion doses of its Covid-19 vaccine this year. The company is on track to provide the U.S. with 100 million doses of its vaccine by the end of March and an additional 100 million by June, the statement said.
The federal government has agreed to buy 200 million doses of Moderna's vaccine with the option to secure an additional 300 million doses.
—Noah Higgins-Dunn
BioNTech says there's no data to support delayed vaccine booster shot offers protection
BioNTech and Pfizer warned that they had no evidence that their jointly developed vaccine will continue to protect against Covid-19 if the booster shot is given later than the amount of time tested in trials, Reuters reports.
"The safety and efficacy of the vaccine has not been evaluated on different dosing schedules as the majority of trial participants received the second dose within the window specified in the study design," the companies said in a joint statement, referring to prime and a booster shots that are meant to be administered three weeks apart.
—Terri Cullen
Home prices are rising faster in the middle of the U.S. as Covid drives people from coasts
Home prices continue to climb at a robust clip, but nowhere are home values rising faster than in the middle of the United States, as Covid drives homebuyers from large coastal markets, CNBC's Diana Olick reports.
Smaller metropolitan markets such as Indianapolis, Kansas City, Boise, Austin, Cleveland, Cincinnati, Memphis and Pittsburgh are seeing some of the strongest price gains in the nation. Prices in those cities are now at least 10% higher than they were a year ago.
Nationally, home prices jumped 8.4% in October from a year earlier on the S&P Case-Shiller Index, the largest one-month move in more than a decade.
"Although the full history of the pandemic's impact on housing prices is yet to be written, the data from the last several months are consistent with the view that Covid has encouraged potential buyers to move from urban apartments to suburban homes," Craig Lazzara, managing director at S&P Dow Jones Indices, told CNBC.
—Terri Cullen
As cases surge in California, Hollywood pauses TV production
After months of rising coronavirus cases, hospitalizations and deaths in California, several Hollywood guilds and labor unions are recommending that in-person production of television shows and independent films be temporarily halted.
SAG-AFTRA, the Joint Policy Committee and the Producers Guild of America made their recommendation public on Sunday, just days after the regional stay-at-home order in California was extended, with no specific end date.
More than 45,000 new cases were reported in California on Sunday, as the state's hospitalization rate reached its highest level since the start of the pandemic. Of those new cases, around 12,400 were from Los Angeles County, according to the state's health department.
"Even putting aside the risk of acquiring COVID on set — a risk that we have done a great deal to mitigate through our safety protocols — on set production always poses some risk of injury, whether because of a stunt gone wrong, an equipment failure or a garden-variety fall," said David White, SAG-AFTRA's national executive director. "Right now, with few if any hospital beds available, it is hard to understand how a worker injured on set is supposed to seek treatment."
—Sarah Whitten
Slack is down, causing problems for remote workers
Chat and video service Slack is experiencing an outage. The service began to have trouble around 10 a.m. ET and users around the world are unable to send or receive messages.
Slack has become more important than ever during the pandemic as people continue to rely on remote work solutions.
"We're continuing to investigate connection issues for customers, and have upgraded the incident on our side to reflect an outage in service," Slack said in an update at 11:20 a.m. ET. "All hands are on deck on our end to further investigate. We'll be back in a half-hour to keep you posted."
—Todd Haselton
Gottlieb makes the case for expanding Covid vaccine eligibility
To speed up coronavirus vaccine distribution in the U.S., former Food and Drug Administration chief Dr. Scott Gottlieb said the government should send out more of its available supply, instead of retaining doses that are earmarked for second shots.
"You need to stockpile something if you want to make sure there's a smooth transition to the second doses, but putting away 50% of all the doses, I think, is denying more people access to a vaccine," Gottlieb said on CNBC's "Squawk Box."
Gottlieb said that with more supply available states could then offer vaccines to Americans who are at least 65 years old, a high-risk group that appears willing to receive the shots.
"If we have a group of Americans that we know wants the vaccine very badly and would take it quickly and also happens to be at the highest risk of a bad Covid outcome — and I'm thinking in particular about senior citizens in this country — I would just give it to them," Gottlieb said.
—Kevin Stankiewicz
Disclosure: Scott Gottlieb is a CNBC contributor and is a member of the boards of Pfizer, genetic testing start-up Tempus and biotech company Illumina. Gottlieb also serves as co-chair of Norwegian Cruise Line Holdings′ and Royal Caribbean's "Healthy Sail Panel."
Despite holiday travel spike, airlines have another difficult year ahead
Airlines around the world had a bruising year. U.S. carriers' 2020 losses alone are expected to top $35 billion and the coming year will be challenging, too.
Air travel spiked over New Year's weekend to the highest since mid-March despite surging coronavirus cases and warnings from health officials to avoid travel. But airline CEOs have warned that demand will likely wane outside of peak holiday periods until a vaccine is widely available and administered.
Investors will get a better look at airlines' finances when they start reporting full-year results, which usually begins in mid-January.
—Leslie Josephs
Japan to consider state of emergency for Tokyo area, raising doubt about the Olympics
Japan is considering declaring a state of emergency for the Greater Tokyo metropolitan area as the number of Covid-19 cases surge, Reuters reports.
The move would cast fresh doubt over whether the country can push ahead with the Olympics this year while keeping economic damage to a minimum, according to Reuters. Kyodo News, citing sources, reported that the state of emergency would take effect on Jan. 9 and last about a month.
Japan logged a record 4,520 new cases on Dec. 31 and at least 3,158 new cases were reported on Sunday, with Tokyo and its surrounding prefectures accounting for about half of them, Reuters reported.
—Terri Cullen
U.S. battles deadly surge a year after virus first emerged in China
It's been just over a year since Chinese health authorities announced they were investigating a small cluster of pneumonia-like cases with an unknown cause.
The coronavirus has now infected more than 85.1 million people across the globe and has killed nearly 1.9 million — counts that are likely lower than official tallies show, global health officials say.
Covid-19 is still surging, but not as much in China, which has reported a weekly average of two Covid deaths a day, according to a CNBC analysis of data compiled by Johns Hopkins University. Meanwhile, the U.S. is reporting an average of 2,637 daily deaths, according to Johns Hopkins.
"I mean, from a public health standpoint, we really got into some significant pain and suffering and death," White House coronavirus advisor Dr. Anthony Fauci told the "Today" show on Thursday. "The good news is that science has and will come to the rescue by getting us vaccines."
—Noah Higgins-Dunn
Health experts reluctantly endorse UK decision to delay second vaccine shot
The U.K.'s Scientific Advisory Group for Emergencies (SAGE) has conditionally backed the U.K.'s decision to delay administering a second dose of the coronavirus vaccine developed by Pfizer and BioNTech.
Late last month, the U.K. said second doses of the Pfizer-BioNTech jab and the newly-approved Oxford-AstraZeneca vaccine, would be given up to 12 weeks after the first dose. Prior to this change of policy, the National Health Service planned to administer a second dose of the Covid-19 vaccine three weeks after the first.
"The urgency of concerted and effective action to suppress the new variant cannot be overstated," SAGE said in a statement.
"While it is a very difficult and finely balanced decision, Independent SAGE endorses the decision to pursue coverage of as high a proportion of the population as possible, as quickly as possible as part of a comprehensive strategy."
—Sam Meredith
Here's how many people have been vaccinated in the U.S. so far
CNBC's Meg Tirrell reports on the push to speed up coronavirus vaccinations in the United States as the nation lags vaccine rollouts in other countries.
—Melodie Warner 
Health official warns South African Covid variant 'more of a problem' than UK strain
A variant of the coronavirus identified in South Africa is more problematic than the strain found in the U.K., Britain's health minister has said, as both strains continue to spread rapidly.
Speaking to the BBC Monday, Health Secretary Matt Hancock said the variant found in South Africa was especially concerning.
"I'm incredibly worried about the South African variant, and that's why we took the action that we did to restrict all flights from South Africa," he told the BBC's Today program.
"This is a very, very significant problem ... and it's even more of a problem than the U.K. new variant."
Both the U.K. and South Africa are struggling with a surge in Covid-19 infections, which have been attributed in large part to new mutations in the virus that make it more transmissible.
—Holly Ellyatt
UK rolls out Oxford University-AstraZeneca vaccine to the public
The U.K. has begun the rollout of the coronavirus vaccine developed by AstraZeneca and the University of Oxford, marking another step in the fight against the coronavirus pandemic.
The jab was approved for use in the U.K. by the Medicines and Healthcare products Regulatory Agency last week and 82-year-old Brian Pinker was the first person in the world to receive the vaccine.
The deployment of the Oxford-AstraZeneca vaccine is seen as a boon in the race against Covid-19 as it is cheaper than alternatives created by Pfizer and BioNTech, and Moderna.
Unlike rival vaccines, the Oxford-AstraZeneca vaccine can be stored, transported and handled at normal refrigerated conditions (2 to 8 degrees Celsius or 36 to 46 degrees Fahrenheit) for at least six months. The U.K., which has a population of around 66 million, has pre-ordered 100 million doses, meaning there will be enough for 50 million people.
—Holly Ellyatt
Read CNBC's previous live coverage here:
Covid updates: Pharmacist accused of purposely spoiling 570 vaccine doses arrested
Copyright CNBCs - CNBC